Since the Affordable Care Act (ACA) was passed in 2010, doctors and patients around the country have faced the effects of extended healthcare coverage. The goal of the ACA is to expand affordable healthcare to more patients, but its impact has raised several issues for the medical field. 
The ACA, also known as Obamacare, made it possible for millions of Americans to gain access to healthcare—but it has also increased the demand for various medical services ranging from routine doctor's visits to mental illness care. Due to this increased demand, doctors are stretched thin, having to divide their attention among a much larger pool of patients. 
Jingshu Luo, a current PhD student studying healthcare management and insurance economics in the Department of Risk, Insurance and Healthcare Management at the Fox School of Business, has had many conversations with her roommates, who are resident physicians, about the condition of Philadelphia hospitals since the ACA's Medicaid expansion. 
"They complained that their hospital was always full of patients and their supervisors give them very limited time to treat patients," says Luo. 
When doctors have less time to engage with and properly treat their patients, medical liability risk could increase. In her research, Luo and her co-authors compared malpractice costs in states that expanded Medicaid versus the states that did not. 
In this natural experiment, Luo found a clear distinction in costs related to liability. Luo says, "The states that went through Medicaid expansion experienced significantly higher medical malpractice costs than non-expansion states."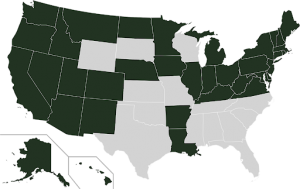 States that expanded Medicaid are illustrated in green
Luo's research also explores the interaction between health insurance reform and the state tort system, which determines legal liability to compensate for a civil wrong from loss or harm.  Whereas Medicaid expansion may increase malpractice liability costs, tort reforms are designed to limit or reduce a physician's overall liability. Notably, they did not find that these reforms reduced the ACA-driven malpractice costs. In other words, Medicaid expansion drove up malpractice frequency, but tort reforms focused on restricting the malpractice claim severity, not volume. 
Luo and her co-authors highlight their findings in their paper, "Medicaid Expansion And Medical Malpractice Liability Costs." Luo also presented the research at the Fox PhD Student Research Competition in 2019 during a Three Minute Thesis presentation. This condensed, single-slide format helps guide researchers to present a brief and concise description of their research in plain language that can be easily connected to real-world business problems.
This rise in liability risk is not one to take lightly. Overall, 37 states have adopted Medicaid Expansion while 14 still have not. Across the nation, doctors and patients are affected by these malpractice and liability costs that stem from the ACA. The ACA's goal is to provide all Americans access to affordable healthcare, but at what cost? 
For more stories and news, follow the Fox School on LinkedIn, Twitter, Facebook and Instagram.