Photo by Opera Philadelphia
The word "opera" doesn't typically trigger images of young people. One may think of tiny binoculars and fur coats, but probably not anyone below the age of forty—unless you attend a show at Opera Philadelphia.
Dennis Paris noticed something interesting about the audience when he attended an opera in which his daughter was cast. "My wife, who is also a professional marketer, and I were shocked at how many younger people were there in groups together. These were young professionals; in their 20s or mid to late 20s," he explains.
Paris, assistant professor of practice in the Department of Marketing and Supply Chain Management at the Fox School of Business, saw this as an opportunity to take a real-life example into the classroom. He wanted to figure out why Opera Philadelphia seemed to be thriving when traditionally it is not an industry that appeals to younger audiences.
Paris decided to write this business case in partnership with Assistant Professor Jean Wilcox, who had been researching the missing element of social interaction in the digital world, along with the help of colleagues Amy Lavin and Sheri Lambert. Their case is intended to teach marketing students the core strategies for changing markets. 
"I met the president of the opera, David Devan, and asked him what he was doing to bring in this young professional marketplace," Paris recalls. "I discovered that they knew exactly what they were doing, based on a very elaborate analysis of segmentation, which is a critically important lesson in marketing."
One strategy was creating a product that would appeal to a younger generation. Opera Philadelphia collaborated with FringeArts, a local performing arts theater, to create "We Shall Not Be Moved." This modern opera is described as, "a timely exploration of past and present struggles which suggests an alternate future through the eyes of its young protagonists."
"Another solution the opera chose was to host a festival," says Paris, "They tested their customer base for interest in the event and discovered that it would be a good way of offering, in a very compressed period of time, so many different flavors of opera that would appeal to the palettes of different segments." Both of these ideas proved beneficial in attracting newer, younger opera goers.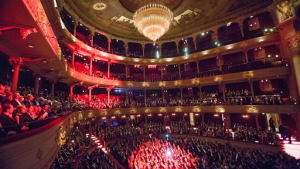 What can marketing students learn from Opera Philadelphia?
The three main marketing methods demonstrated and outlined in the case are Segmentation, Targeting and Positioning (STP). Paris explains that segmentation divides consumers into groups, targeting finds who in those groups to specifically market to and, based on that information, positioning guides the business on how they should represent their brand to that audience.
"This is an excellent case to enable students to not only learn the marketing process through the eyes of Opera Philadelphia but also apply it," says Paris.
Paris credits help with developing this case through a June 2018 workshop hosted by the Fox School's Translational Research Center (TRC). "I came away from that workshop with a draft synopsis and specific milestones that I would not have figured out on my own," Paris explains, "I also began to understand the world of case writing from an insider's perspective. This was a valuable experience without which I am certain the Opera Philadelphia business case would not exist today." 
The case, "Opera Philadelphia: Segmentation Strategies For Changing Markets," was published through Ivey Publishing in August 2019.
What does this research mean for the opera industry?
"This is a landmark case that I think can help the opera industry at large. I think Opera Philadelphia is a model that other operas, nationally, should look at," says Paris. By finding a way to bring in a younger audience, Opera Philadelphia has brought new energy to the old-school art.
Learn more about Fox School Research.
For more stories and news, follow the Fox School on LinkedIn, Twitter, Facebook and Instagram.