Insight from three Fox alumnae
Fox EMBA cohort in 2019
Pursuing an Executive MBA while balancing work as a senior-level professional, a social life, and responsibilities as a partner and/or parent can bring its challenges.
But women are proving they can have it all, with female enrollment in EMBA programs reaching an all-time high last year. The percentage of females pursuing an EMBA increased to 31.2% in 2019 from 27.6% in 2015, according to the annual membership survey results of the Executive MBA Council (EMBAC).
The Fox School is ahead of the industry standard, with its latest cohort made up of about 40% women from a diverse array of industries and backgrounds.* One weekend per month for 16 months, working professionals gather at Convene at Commerce Square in Philadelphia for the Fox Executive MBA program to enhance their leadership skills and learn from each other and the program's industry-expert faculty.
Get to know three female alumnae and what led them to go after a degree, their experiences in the program and words of wisdom for women looking to take the next step in their careers.
Kristen Behrens, EMBA '20
"I learned that the only way to create change is to be the change."
While working as a senior account manager in marketing at the Children's Hospital of Philadelphia, Behrens was advised by multiple mentors to pursue an advanced degree. "I knew a master's in business would help me think about my career differently and navigate the business side of a changing healthcare industry," says Behrens.
She chose the Fox EMBA because she was interested in an educational experience that was more than a transaction; she wanted an immersive, in-person program that fit her lifestyle, worked for her schedule and offered her the chance to connect with driven and confident professionals.
Behrens connected in particular with women in her cohort who were considered the leaders of their respective groups. "A lot of times, I found that the women tended to be more detail-oriented and were the ones driving progress in their groups," says Behrens. "The people I formed relationships with were the powerhouses of the class and they just so happened to be women."
Along with the connections she formed and a global immersion to Israel, highlights for Behrens during her time in the program include a career change. She floated the idea of reconfiguring an existing open position from a nursing job to a business position and her strategy was well received by leadership. Today, she works as manager of strategic business development and communications in the Center for Fetal Diagnosis & Treatment at CHOP.
"I learned that the only way to create change is to be the change," says Behrens.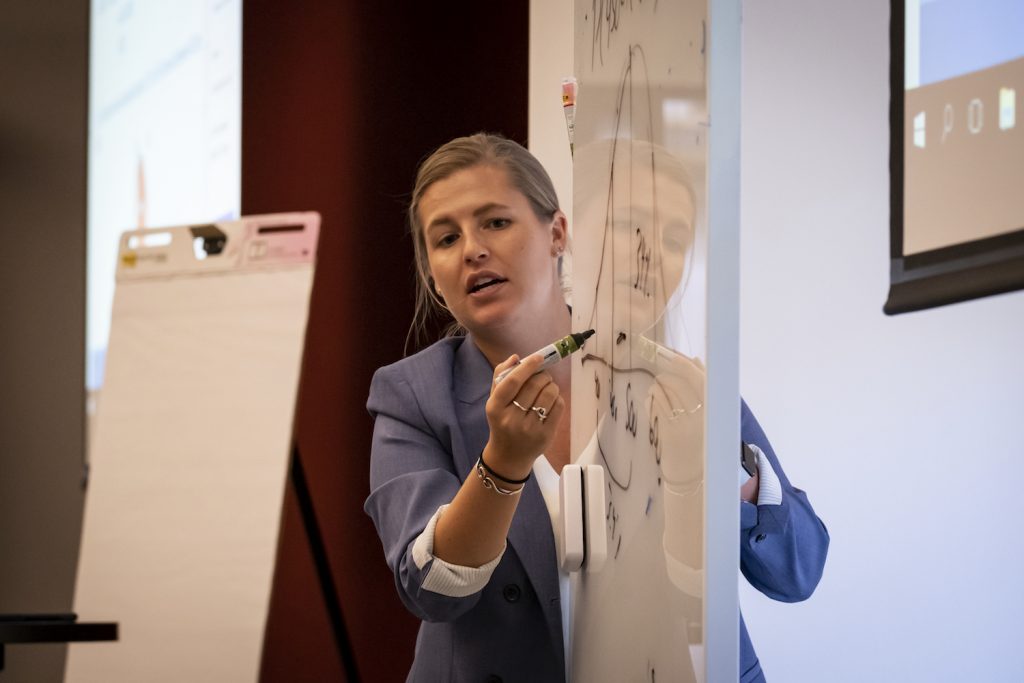 Fox EMBA cohort in 2019
Shannon Connolly, EMBA '16
"…I formed really impactful relationships with the smaller group of women in my cohort with whom I still keep in contact."
Connolly wasn't sure if she was using her interests and skills to the fullest potential when she decided to go back to school. She had been working for an international insurance firm as a regional sales manager when she questioned if she should seek a job elsewhere to challenge herself or pursue an advanced degree.
"I decided to go after an MBA because I wanted to learn something new, be surrounded by motivating people who have interesting careers and see where the journey would take me," says Connolly.
With that mindset, she started looking into MBA programs in the Philadelphia area and chose the Fox EMBA program. She credits the caliber of executive-level colleagues with fueling her personal and professional transformation inside the classroom and on her cohort's global immersion to India.
"I was surrounded by professionals who had years of experience under their belt and was able to learn from them and challenge myself to think differently about my career and where I wanted to head next," says Connolly, who today works as a healthcare industry management consultant at Vynamic.
In particular, she found value in connecting and getting career advice from other women in business. "Having been the minority in the male-dominated insurance industry, the idea of being the minority in the classroom wasn't an intimidating factor for me. I knew that pursuing my next level of education was the right path for me, and I formed really impactful relationships with the smaller group of women in my cohort with whom I still keep in contact," says Connolly.
Christine President, EMBA '18
"The EMBA program helped me realize my full potential and ability to meet and overcome challenges."
While working on her Fox EMBA degree, President often worked on her homework alongside her 15-year-old daughter, knowing her responsibilities as a parent would not halt while she completed the program. "It was a good example for her to see that her mother was in the same boat as her in terms of completing projects, meeting deadlines and studying," says President.
Her extensive career in sales across many industries—including retail, advertising and pharmaceutical—led her to wanting to pursue an MBA. "I felt siloed only seeing business through a sales-lens," says President.
Along with gaining knowledge about different facets of business, the program also helped her develop more confidence, particularly as a woman in business. "The EMBA program helped me realize my full potential and ability to meet and overcome challenges. It taught me to trust in my business acumen and ability as a leader," says President.
Today she applies those skills to her role as an area business manager for a major pharmaceutical company—a position she landed as a result of her advanced degree. "I think part of what I brought to the interview was a new way of looking at business that was inspired by what I learned and did in business school," says President.
To women enrolling in a program while balancing roles as professionals, parents, and partners, President advises, "Find a balance. As a female, you may have an enhanced amount of responsibilities in comparison to your male classmates, who may have the luxury of having a spouse who can care for family. Allow time for the program, your career and your life by establishing structure within your teams and setting your expectations for yourself and teammates."
*Data approved accurate as of 1/23/2020 by DVU.