Fintech, Blockchain and Digital Disruption course to be held in new virtual reality format
Professor Ozkan teaching in the virtual environment
PHILADELPHIA, March 18, 2020 — Bora Ozkan doesn't do virtual reality. Good luck if you try to get him to play video games.
"It's just never been my interest. I don't even own a VR headset," says Ozkan, assistant professor of finance in the Fox School of Business at Temple University. 
However, as an educator, he's always looking for ways to improve the student experience. He believes that VR might be able to achieve that.
"When I first put a headset on, I saw that the experience is so unique and different," he says. "I immediately started to think, 'How can we use this to benefit our students?'"
Ozkan has been researching that question for the last 18 months. This week, he'll get his answer.
On March 19, he will begin teaching Fintech, Blockchain and Digital Disruption in the virtual reality (VR) format as part of the Fox Online MBA program. The seven-week accelerated course is believed to be one of the first MBA-level courses to be offered in a VR format anywhere in the United States. The 20 students enrolled in the course can take it anywhere in the world. All they need is the Oculus VR headset that they received in the mail after signing up for the course.
Once they put the headset on is when things get interesting.
The course takes place in two VR classrooms; one mirrors a traditional auditorium-style lecture hall while the other is in an outside park. The details are meticulous. For example, benches in the park actually have iron fittings that are embedded with a Temple T.
Students are visualized with virtual avatars. The instructor, in this case, Ozkan, is live-streamed from a video studio into the center of the virtual lecture hall. Ozkan can see the virtual classroom as he lectures. He's aware of when a student avatar raises his or her hand. For students, the scene basically mirrors that of an in-classroom lecture hall.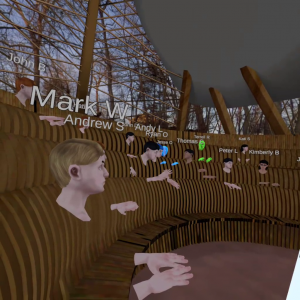 Professor Ozkan teaching in the virtual environment
Ozkan's desire to create this course comes from a need to continuously improve online learning outcomes in higher education. That's especially relevant today as so many colleges and universities have been forced to move online due to coronavirus concerns.
One of the challenges of online education is distractions. Your Facebook feed is only ever a click away. Your phone is almost always sitting next to you.
"What I really like about VR is that students are not going to be distracted by cellphones or their computer. When they take off their headset, the avatar's head falls down, so you know someone took off their headset and is not paying attention," Ozkan says.
The course was built by the Fox School's Online and Digital Learning department with the help of the Glimpse Group, a virtual reality and augmented reality platform company headquartered in New York City.
It wasn't easy.
"There is no PowerPoint or Microsoft Word template for what we're doing. I never thought I would be able to work on a VR project in this department, and it's been a huge learning curve in many, many ways," says Tom Lennon, senior video production specialist at the Fox School.
Gabby Gutierrez, a Fox School video specialist and 3D designer for the project, agrees.
"The research component, of course, has been very time-intensive. We had to play different roles," she says. "We're not just building an environment, we're building all of the pieces in the environment."
While this is the first VR course the team has designed, it will likely not be the last. Ozkan and the team expect to make adaptations based on this course, which they will then use in future courses.
In some ways, Ozkan believes the VR classroom can actually offer a better experience than face-to-face instruction. For instance, the technology can be adapted, so that every student can have a front-seat view of the instructor when they put on the headset.
It's unknown how students will respond to the course over the next few weeks, but there's a lot of optimism.
"Everybody was excited that it is something new that hasn't been done," says Layah Bogen, an instructional designer for Fox Graduate Programs. "We have a hypothesis, and we think if it's true, the impact can be big."
About the Fox School of Business
The vision of Temple University's Fox School of Business is to transform student lives, develop leaders and impact our local and global communities through excellence and innovation in education and research.  
The Fox School's research institutes and centers and 200+ full-time faculty provide access to market-leading technologies and foster a collaborative and creative learning environment that offers more than curriculum—it offers an experience. Coupled with its leading student services, the Fox School ensures that its graduates are fully prepared to enter the job market.  
The school's knowledge-creating research faculty affords it the flexibility and responsiveness to address the needs of industry and generate courses and programs in emerging fields of study. As a leader in business research, the Fox School values interdisciplinary approaches and translational research that advance actionable insights to solve real-world problems. Our research informs an adaptive curriculum, supports innovation in teaching and prepares students for the changing nature of work.
The course is receiving attention beyond the Temple community. Read the recent Philadelphia Business Journal article, "Is virtual reality the future of online learning? A Temple professor is giving it a try."