Finance graduate and longtime center Matt Hennessy is one of a school-record four Temple Owls selected in the NFL Draft, going to the Atlanta Falcons with the 78th overall pick 
It's the night of April 24 and NFL hopeful Matt Hennessey, BBA '19, sits in his childhood home in Clarkstown, N.Y. He's surrounded by his girlfriend, mother, brother and sister-in-law. The NFL Draft blares on the television in the background.
It's exactly the scene he envisioned—the scene he hoped and dreamed for—years ago.
Ring! Ring! Ring!
Hennessey looks down at his cellphone, which is auspiciously receiving a call from a Georgia area code.
"I was kind of sitting there on pins and needles all night," Hennessey says. "Then, I see the Georgia area code, and I immediately know that I'm going to the Falcons. I definitely jumped, and I was just so excited to finally know where I would be going."
Over the next several minutes, Hennessy chatted with Falcons general manager Thomas Dimitroff, head coach Dan Quinn and owner Arthur Blank.
Then, it became official. The longtime Temple center and Finance graduate was selected in the third round—78th overall—by the Atlanta Falcons. Hennessy was one of a school-record four Owls selected during the 2020 NFL Draft. It was a surreal moment for Hennessy, but also an immense sigh of relief.
"After graduation (in December), I was kind of stuck in this weird stage where I didn't have a team. I was a Temple Owl for so long, but then that was over. Now, I am an Atlanta Falcon, and it's great to be a part of a team again," Hennessy says. 
Hennessy will now look to make as strong of an impression on his new team as he did on his previous one.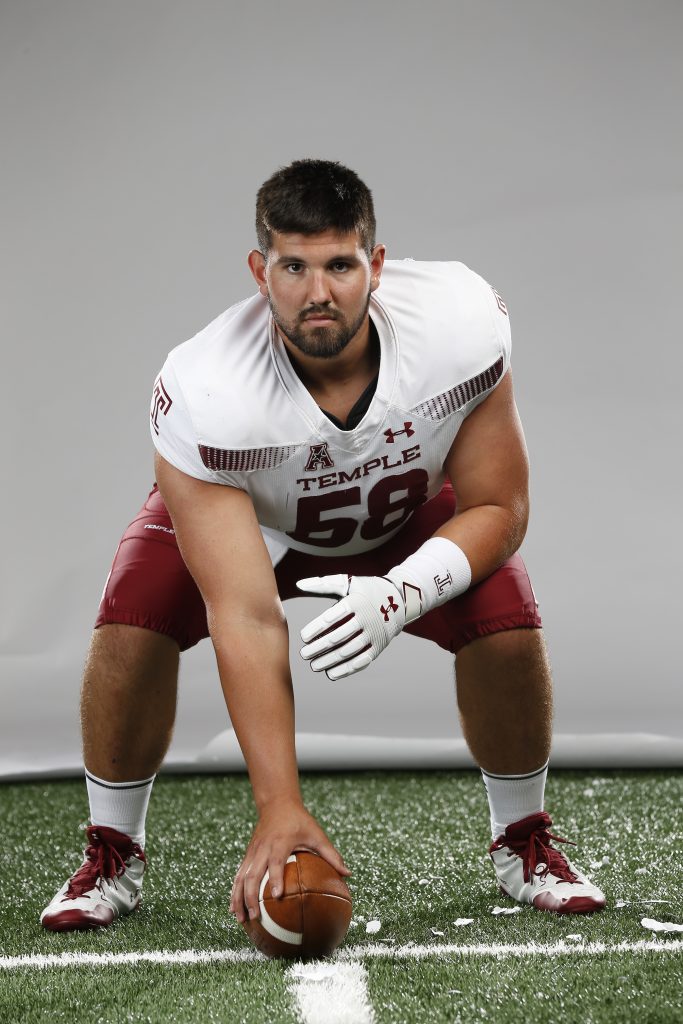 During his senior season with the Owls, Hennessy was named third-team Associated Press All-American and first-team All-American Athletic Conference. He was also a finalist for the Rimington Trophy, which is given annually to the nation's best center. In total, he started 35 of a possible 39 games for the Owls during the past three seasons, missing only four due to injury.
"Matt's a guy who is self-motivated and relentless in everything he does," says Temple head coach Rod Carey. "He's a highly intelligent and physical football player. Obviously, we are super excited for Matt to be selected by Atlanta. He's going to be a good player in the league for a long time. He's a class act of a kid; great family."
Given his success, both collegiately and now professionally, one would think Hennessy was destined for athletic greatness, but it's a bit more complicated than that.
As a youngster, Hennessy says he was often overmatched by his peers. It was the same case for his brother, Thomas Hennessy, who is about to begin his fourth season with the New York Jets.
However, the Hennessy brothers worked hard and constantly focused on improving. In high school, as a right tackle, Matt Hennessy competed against some future NFL players, including the reigning NFL Defensive Rookie of the Year Nick Bosa. He held his own, which led him to believe he might have a future in football.
Despite this, he received only one Division I Football Bowl Subdivision (FBS) scholarship offer, and it came from Temple University. That one offer was all he needed.
"I pretty much decided that Temple would give me the best of both worlds. It would still give me a world-class education, but it would also let me live out the dream of playing Division I football. I also knew Temple had a reputation of producing pros, and that vision started to become clearer for me."
After joining the Owls, Hennessy points to a conversation that he had with then-Temple head coach Matt Rhule, now the head coach of the NFL's Carolina Panthers. 
"He said, 'You have the capability to be a pro lineman,'" Hennessy recalls. "That was something that stuck with me."
Hennessy says he benefited greatly from being able to work with a number of coaches with offensive line experience. Carey played center at the Division I level for Indiana. Offensive line coach and run game coordinator Chris Wiesehan also played a key role in helping Hennessy develop.
As he continued to hone his football craft, Hennessy was also perfecting his business acumen. 
"I went into Temple knowing I wanted to go into the business world. When I took the first financial management course, I found that I had a little bit of an aptitude for it," he says. "I loved the way it forced me to think critically. That challenge kind of spurred me to elect Finance."
His academic mentors impacted him in the same way his football ones did. 
"Matt was definitely one of my favorite students. He took two of my courses, Financial Data Analysis and Financial Modeling, and while both courses are quantitatively challenging and programming-intensive, he earned A's in them," says Cheng "Jason" Jiang, an assistant professor in the Department of Finance. "Matt always sat in the first row of the classroom, listened carefully and asked good questions. I am confident that he will be successful in the NFL and every aspect of his life because he is so intellectually and physically outstanding."
Hennessy is currently adjusting to his new reality. Due to the COVID-19 pandemic, he's still stationed in Clarkstown. Every day, he's meeting with his teammates and coaches for 5-6 hours via Zoom or Microsoft Team. He's also working out two hours daily in his friend's garage gym.
It's somewhat surreal for him to think that he now calls Matt Ryan and Julio Jones, two of the top players in the NFL, teammates, but he's taking it in stride.
He's also already thinking of how his business background can eventually complement his football career and vice versa.
"Football is such an incredible platform. Whether you're trying to build connections in the business world or in the charity world, it's such an incredible platform to do that," Hennessy says. "But to be able to do that, it all starts with having a long successful NFL career, and that's what I hope to have."