Experiential learning is a driving force for the Fox School of Business' programs, allowing students to apply the skills they have learned in their courses to real-world situations. Temple University's Management Consulting Program understands the importance of students putting those skills to the test before entering the workforce, resulting in the creation of its first live case competition that took place earlier this semester. 
Hunter Speakman, management consulting program associate and current freshman highlights the importance of students getting this experience early on. "The idea behind the competition was we were going to prepare students to be able to solve business problems within 24 hours," says Speakman. 
Eighteen teams participated, divided into six graduate and 12 undergraduate teams, comprised of a diverse range of students across different Temple schools and colleges.  The case topic or sponsoring firm was not disclosed until it was distributed to the competitors at the conclusion of the opening reception. 
Although the idea behind the case competition was to prepare students for challenges they may encounter in their careers, Po-Sung Hsu, the team leader of the graduate winning team, saw the competition as a valuable supplementary form of learning to his studies. 
Graduate winners from left to right: Dennis Elwell, Xin-Rui Ma, Gina Bobadilla, Po-Sung Hsu

"My philosophy of participating in a lot of events is: regardless of what the results are, the most important thing is that you are learning something valuable," says Hsu. "When I saw that the case competition was being held on campus, there was no hesitation for me to get involved."
Even though many may believe that entering a competition means you expect to win, Hsu believes that learning something is even more important. "I don't expect to win, but I expect to learn something from my teammates because they come from different majors within and outside of Fox school," says Hsu. "I felt like this was a good opportunity for me to work with my teammates and learn something from them, get inspired by them, which is the most important thing aside from the competition itself." 
In a single day, students prepared a solution to a problem that Solenis, the sponsoring firm was trying to solve: how to become more sustainable/eco-conscious. The process of presenting to a panel of judges ranging from department heads to vice presidents demonstrated how working under high-pressure stakes can be conducive to students' learning. 
Seven teams (three undergraduate and four graduate) made it to the final round of the case competition and pitched their ideas to a panel of executives ranging from vice presidents, department heads and John E Panichella, CEO of Solenis. The winning graduate team was invited back to present their winning pitch in front of Solenis' full leadership team. Hsu explains the four components of their winning pitch: position Solenis as a model in sustainability, customer education and engagement, open innovation and to address the company's zero or low carbon footprint impact.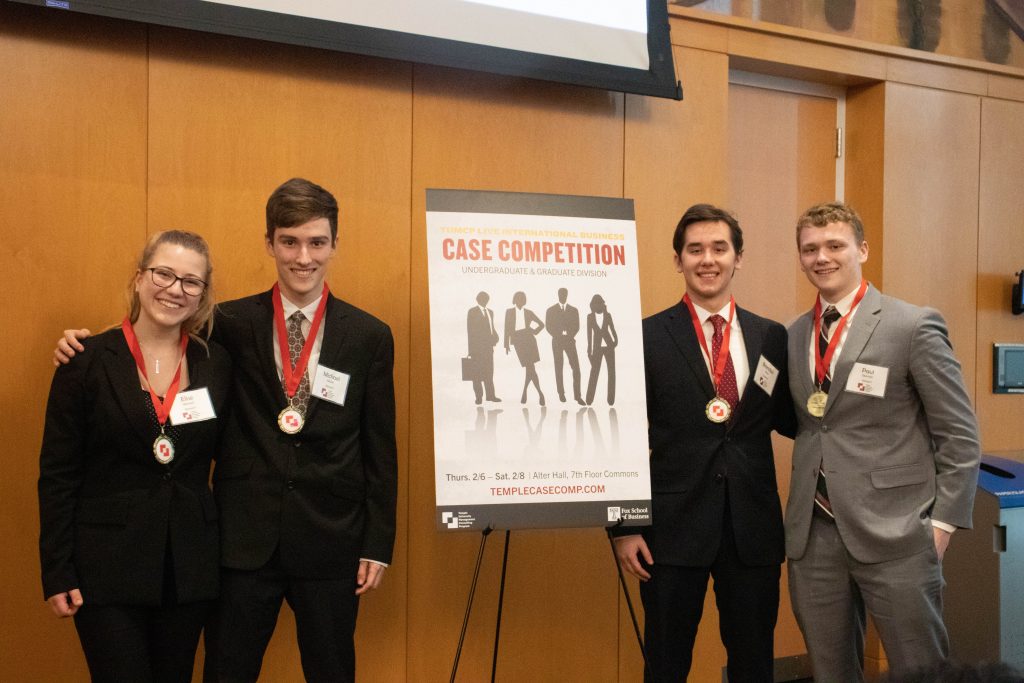 Undergrad winners from left to right: Elise Mitchell, Michael McGill, Brendan Hahn, Paul Denman. The winning team were all freshmen at Temple.
Helping fellow students reach their full potential by effectively applying the skills they have learned a key reason why Speakman became involved with the Management Consulting program. "Opportunities, where you can take skills such as public speaking and problem solving and use it in a real career setting, are amazing," says Speakman. "In this case, I had the opportunity to allow other students to have the same rewarding experience." 
Temple University's Management and Consulting Program will host its live competition in February 2021 featuring a new case and new students eager to get involved!