With an estimated 2.7 million new jobs for data science and analytics talent expected to post this year, employer demand for professionals with data and analytics skills continues to grow, according to a recent report from Burning Glass Technologies, Business-Higher Education Forum, and IBM.
Nearly all industries–particularly finance and insurance, information technology, and professional services–are seeking professionals who are data literate and can communicate the connection between data and business value. 
To learn more about careers and advanced degrees in analytics and data science, we spoke with Rachel Brown, assistant director of graduate admissions for the Master's programs in Analytics at Temple University's Fox School of Business.
What graduate degree options are available at the Fox School and how can they equip students for the workforce?
The Fox School offers specialized master's programs in analytics: Business Analytics, Statistics and Data Science, and Statistics. All three are STEM-designated and offer full- and part-time options.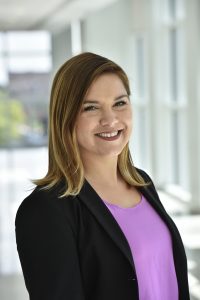 Rachel Brown
The Master of Science in Business Analytics prepares students to become excellent "translators"–professionals with strong quantitative skills in analytics who can translate from data to decisions, from decisions to profit, and who can then communicate how these analyses will affect business outcomes. Through real-world projects, case studies, and market-driven coursework, students gain advanced skills and techniques to help inform and improve business decision making. 
While students of the Business Analytics program become "translators," those in the Master of Science in Statistics and Data Science are "quant jocks" with a deeper understanding of modern quantitative techniques in statistics, machine learning, data management, and visualization and their nuances. The curriculum equips students with advanced technical expertise on how to collect, analyze, and interpret data through the use and application of innovative analytical tools and software, and emphasizes comprehensive communication skills.
Students in the Master of Science in Statistics program gain a strong understanding of statistical theory and technique and are prepared to pursue a doctoral program. They can specialize in data science, biostatistics, and most areas of statistical theory and method, and are groomed to succeed as professional statisticians in industry, government, or research organizations.
What are the key differences between the Business Analytics program and the Statistics and Data Science program? 
Students graduating with a Business Analytics degree are data-driven professionals who can translate between business problems and analytic solutions. They gain the knowledge to move from data to decisions and from decisions to profit in almost any industry.
Those in the Statistics and Data Science program graduate as "super analysts" who have a stronger and deeper foundation of predictive analytic skills. The program targets students who want a quant-heavy and data-focused educational experience.
Who do you see applying for these Fox programs?
In today's business landscape, almost all businesses have access to large volumes of data that they need to make sense of and leverage. Because of this, analytics-focused individuals are in demand across industries, and people enrolling in and graduating from these programs have unique and varied goals.
Accordingly, we see a lot of students with very diverse backgrounds applying to these programs. While students in the Business Analytics program often come with business experience and those in the Statistics and Data Science program have undergraduate degrees or experience in computer science and engineering, we also frequently admit students from backgrounds including but not limited to education, the arts, healthcare, and other subjects. 
Are there benefits to learning business analytics and data science from a business school?
Earning an analytics-focused degree from a business school gives students a practical education that prepares them for the real world. While they study the latest theories and methods, students also get the chance to apply what they learn through hands-on experiences with real companies. Both programs emphasize industry-connected opportunities to apply what they study in their courses to live data, with real clients who need solutions.  
Interested in earning an analytics-focused degree? Request more information and get connected to Rachel Brown.
Request Information
Learn more about the Fox Master of Science in Business Analytics.