Photo by Betsy Manning
What would happen if Temple University disappeared into thin air?
OVER 29,000 STUDENTS RECEIVING HIGHER EDUCATION 
43,000 JOBS STATEWIDE 
$205 MILLION IN TAX REVENUE FOR PENNSYLVANIA 
$82 MILLION IN CHARITY, PROVIDED BY TEMPLE UNIVERSITY HEALTH SYSTEM'S HOSPITALS 
POOF. GONE. 
Temple, like other research institutions across the U.S., acts as a significant economic engine for Philadelphia. Every day, the university makes an impact on the city's most critical economic sectors by generating substantial revenue, employment opportunities, affordable education and access to the community. 
The Fox Focus editorial team met with a few members of the Fox community to discuss some of the ways that we work to positively impact the city of Philadelphia in a few critical economic sectors.
Entrepreneurship 
In 2018, Philadelphia landed the eighth spot on the Forbes list of top startup cities in the U.S. because of the affordable costs of doing business, convenient access to other East Coast hubs and the passionate, talented citizens. 
Ellen Weber is an assistant professor in strategic management and executive director of Temple University's Innovation and Entrepreneurship Institute (IEI). She also serves as the executive director of the Mid- Atlantic Diamond Ventures, an independent organization that helps companies build sustainable businesses by better positioning them for funding while increasing value at an early stage. 
She asserts that Philadelphia-based universities like Temple provide those talented citizens and future business people with space and expertise they need to flourish and give back. 
One direct way alumni give back to the City of Brotherly Love? Job creation. 
When they were students, Andrew Nakkache, BBA '15, and Mike Paszkiewicz, BBA '15, had the space to convene and the faculty expertise on hand at the Fox School and IEI to help them launch Habitat, a food delivery app that, in 2015, won them first place in Temple University's Be Your Own Boss Bowl®. Today, they employ about 20 Philadelphians and the growth shows no signs of slowing down. 
"Entrepreneurs are also problem solvers," Weber says. "They seek to solve problems that they understand and experience." 
And in 2009, Tim Bennett, MBA '09, had a problem. Because of the environmental benefits of composting, he wanted to get in on the trend. But he was living in a second-story South Philadelphia apartment and wasn't sure how to get started. After talking with friends, he realized a community of people wanted the same thing. 
He used the entrepreneurial mindset that he cultivated at the Fox School to develop a business model where his company, Bennett Compost, collects kitchen waste from customers for a monthly or yearly fee. Bennett Compost picks up scraps from more than 2,000 households and businesses every week, keeping over 52 tons of material out of the landfill every month.  
Philadelphia Sports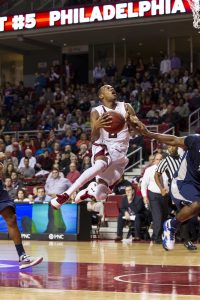 Photo by Joe Labolito
The Temple Owls generate more than a sense of pride for Philadelphia and its citizens. Much like the Flyers, Eagles and the Phillies, the Temple Owls are huge moneymakers. 
The city hosted the NCAA Men's Basketball East Regional 28 times since 1939. Most recently, in 2016, the event was estimated to have generated 5,000 hotel room bookings and $10 million in economic impact for the city. 
"These 'new dollars,' or money spent by visitors to Philadelphia, have a ripple effect," says Daniel Funk, director of research and PhD programs and professor at the School of Sport, Tourism and Hospitality Management (STHM). "People are going to restaurants to eat dinner, they are spending money on entertainment. Their dollars ripple throughout the city's service sectors." 
In addition to the economic impact of large events such as the 2017 NFL Draft—which, according to a research project conducted by STHM and the Philadelphia Convention and Visitors Bureau, totalled $94.9 million in direct and indirect spending—they also allow Philadelphia to shine as a travel destination. Data from that same study found that 79% of the attendees would recommend Philadelphia as a travel destination and 62% planned to return for a vacation within 12 months. 
"University and city sports boost the world's impression of the city itself," Funk says. "They reach out and attract people to Philadelphia." 
Finance & Accounting
Despite a bubbling entrepreneurial network and healthy sports and tourism industries, Philadelphia is still one of the poorest large cities in the U.S., with a 2018 poverty rate of 26%. 
However, universities with strong accounting and finance programs like the Fox School can combat those statistics on an individual level by spreading financial literacy and offering support services for the Philadelphia community. 
Alumni like Anthony Copeman, BBA '14, and Thomas McDevitt, MBA '02, have dedicated their careers to helping empower Philadelphia's most economically disadvantaged citizens. Since he was a student studying accounting, Copeman has founded a nonprofit (Backyard Business) and a financial coaching program (Financial Lituation), began working for the City of Philadelphia, and launched an animated financial literacy YouTube series called $hares. 
McDevitt, an IRS enrolled agent, chartered financial analyst and certified financial planner, provides affordable, low-priced tax resolution services and financial literacy training for Philadelphia working families and small business owners on a volunteer basis and with his nonprofit, Philly Financial Planning. 
Businesses have for many years sought to enrich the diversity of their employee base to better serve their customers and clients," says H. Richard Haverstick Jr., BBA '74, chair of the Fox School Accounting Advisory Board and a member of the Fox School Board of Visitors. "Temple has a richly diverse student body to go along with its outstanding accounting program. For these reasons Temple is considered a prime source school by accounting firms and corporations." 
Healthcare 
Photo by Joe Labolito
With dual MBA and BSN degrees, Brian Sweeney, MBA '00, is in the business of saving lives. 
Sweeney worked as a nurse in North Philadelphia and experienced new perspectives from patients and their families. This inspired him to work toward improving the healthcare industry, and he decided to pursue an MBA at the Fox School. As chief operating officer for Thomas Jefferson University Hospitals, he is responsible for operations across several hospitals, a 700-physician network and additional businesses that generate over $2 billion annually. 
The rise of the MD/BSN and MBA degrees is a trend that Sweeney has noticed. Physicians who are interested in leading change choose schools like the Fox School to round out their knowledge base. "A driven group of medical professionals are coming out of Fox," Sweeney says. "I partner with them to advance initiatives that could really create positive change in the industry, like researching and standardizing best practices in care. They understand working toward the best patient outcomes at the lowest cost." 
Just like most businesses, healthcare is competitive. The marketplace in Philadelphia is no exception; there are various choices for providers staffed by highly qualified nurses and doctors. Many experts assert that this competition is healthy and will lead to providing more appropriate care and lower costs. But, with that approach, a community challenge has emerged. 
"There is still a huge health and inequity disparity in Philadelphia," says Sweeney. "The ability for these systems to collaborate and share knowledge and best practices could be critical to solving societal issues. Great strides could be made with teamwork across healthcare systems and community organizations of Philadelphia." Sweeney thinks that, as an institution dedicated to providing education and fostering research, Temple has the potential to be a convening center to allow this cross-collaboration to flourish.  
Real Estate 
What if we could fundamentally change the overall well-being of a neighborhood? A city? Real estate development could be more than affordable housing, open-area shopping or gentrified neighborhoods. It could be a transformative path to alter existing communities for the better, according to Assistant Professor David Wilk. 
Wilk's Fall 2018 Real Estate Development class looked at whether Temple could partner with the city and create a University Research Park model that provided an enhanced social infrastructure for the North Philadelphia community. 
The students recommended creating a "P3" Innovation/Research Park. "P3" is a place where Temple, the city of Philadelphia and private businesses would create a facility designed to foster education and research focused on creating social infrastructure for the neighborhood. 
Often, development projects focus on restaurants, retail shops and housing. But the class focused on social work offices, childcare facilities, clinics and an innovation center as an expansion of the Small Business Development Center partnered with IEI. The students envision the park being a place where Temple students from multiple disciplines can gain experience teaching early education classes or working with residents to optimize healthcare plans.
A key aspect, according to Wilk, is keeping the existing community, not pushing residents out. "Development does not have to hurt a community, it can enhance a community," Wilk says. "Developing a social infrastructure innovation park is a win for Temple University, a win for private industry partners and a win for the community."