Photo by Joe Labolito
Howard Brown is a changemaker. 
After graduating from the Fox School, Brown, BBA '05, enjoyed several years at Goldman Sachs and then TD Bank. He lived in a Manhattan highrise; he held season tickets to the Eagles and the Yankees. Today, he heads an investment company focusing on social infrastructure and economic development. 
Those are great things, but what makes Brown a changemaker is his work in the Philadelphia School District. The former foreign-exchange analyst teaches students at Northeast High School about business. But more than that, he teaches them about life choices. 
When Brown was still at Olney High School, he started coming to Temple University. A friend who was two years older than Brown was a student at the Fox School.
"He took me all through Temple's campus," Brown says. "I had a chance to learn about the Temple culture, Fox and all the great things the school did for him. I was enamored with the school even before I went there."
At the Fox School, Brown focused on his studies and opportunities, starting out as a marketing major but soon switched to finance. He joined the financial management association, the National Association of Black Accountants (NABA) and he joined a student professional organization (SPO) for entrepreneurs. 
When asked if he was involved with the Center for Student Professional Development (CSPD), Brown's voice goes up an octave. "Was I?" he rhetorically asks. "Corinne Snell, is she still there? Janis Campbell? Those people treated me like gold."
At the CSPD, Brown was a corporate relations liaison, establishing relationships between businesses and the CSPD team. It was a chance to practice networking and learning the importance of creating relationships to do business.
"They helped me grow from being a scrappy kid to being much more polished," Brown says. "A big reason I was able to get an internship on Wall Street was the Center. They were very instrumental in my success, but they were very instrumental in a lot of people's success."
From analyst to mentor
In 2004, before he graduated, Brown interned at Goldman Sachs. Then he was hired as a foreign exchange analyst where he oversaw trading, risk and financial reporting involving several businesses on the foreign exchange and spent time working in several units at Goldman Sachs. The normal process, Brown explains, is to work on the trading floor for about three years and then go back to school for a master's degree. That was not for him.
He traveled up and down the West Coast trying to get a business up and running throughout the recession. Eventually, he returned to the Philadelphia area. 
"My grandparents were teachers," Brown says. "My grandmother was always very critical of my handwriting and I told her it did not matter because I would never be a teacher."
When he first came back to Philadelphia, he volunteered at the school district. Brown was a motivator. He met with kids who had or were in danger of dropping out and stressed for them the importance of going back to school.
"It was about getting brutally honest about their future prospects if they don't get educated," Brown says. "Many of them were very receptive to me because I wasn't really all that much older than they were."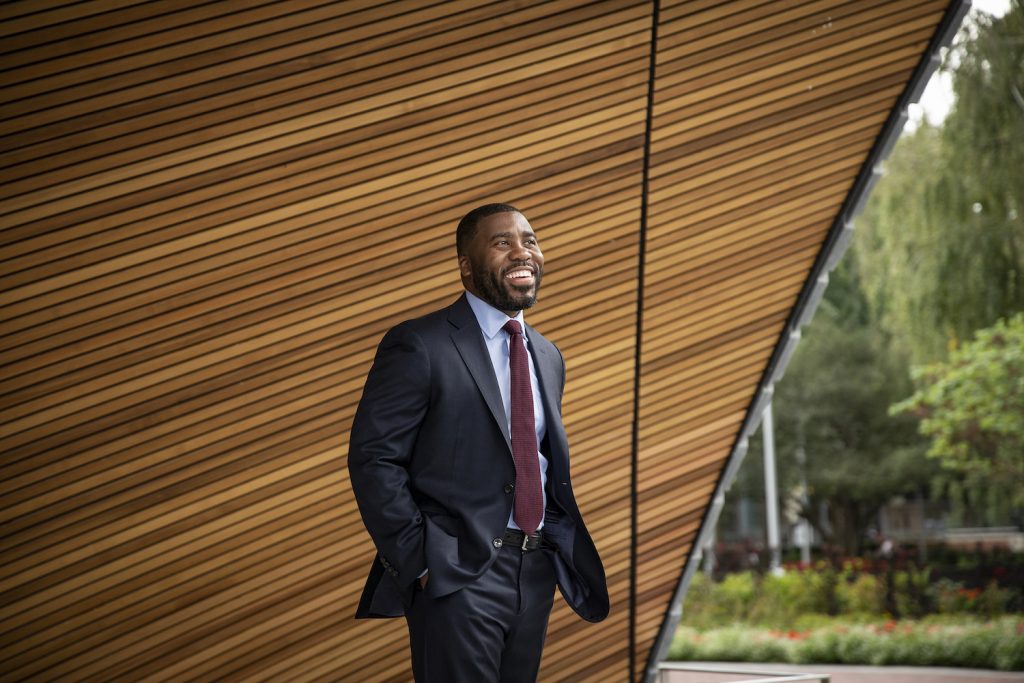 Photo by Joe Labolito
Brown's success in mentoring high school students led him on trips to an odd place: prison. In 2014, he was among a trio of men—the others were pastor Damone B. Jones Sr. of Bible Way Baptist Church and Chad Dion Lassiter, president of the Black Men at Penn School of Social Work—mentoring rapper Meek Mill while Mill was in the Philadelphia prison system. Brown said he spoke to Mill frequently about what kind of impact the rapper could have, given the power of his voice and about the role Mill wanted in the lives of his children. The two men have remained friendly and regularly speak, often about their children. 
Brown spent about a year volunteering at the school district before he took a vice president position with TD Bank, where he managed and executed asset-based and leveraged financings. 
He was there for three years before he felt the pull of wanting to connect with students again. Throughout his time with TD Bank, he still spoke at schools and gave career advice at Northeast High School.
To hear Brown tell it, that first gig volunteering was about discovering himself. And now, as a teacher, it is more about the students discovering themselves.
Teacher, counselor, parent, friend
Generally speaking, Brown teaches business, but the classes fall into two primary categories: marketing and entrepreneurship.
Brown says his students have chemistry, algebra and other common classes all day long and then they come to him where he is trying to teach them how to start a business.
"Even those who are not entrepreneurial love being creative and developing businesses from scratch," Brown says. "Young people tend to quantify success on money or how many assets a person has. I tell them some of the most unsuccessful people I've met in my life had a lot of money. Being successful is not about money."
Brown explains that teaching often goes much deeper than what is in the lesson plan. A lot of the lessons he imparts involve teaching his students to look at themselves through a different world view. 
"Teaching is not just about teaching your subject and your curriculum," Brown says. "You are a teacher one day, a counselor one day, sometimes you are like a parent, sometimes you are a friend. You have to listen a lot."
Brown recently completed his master's degree in education and entrepreneurship at the University of Pennsylvania and Wharton School of Business. He is specifically interested in education entrepreneurship and is working on conceptualizing a program or school that teaches entrepreneurship and venture capitalism.
There are not a lot of high schools that introduce students to entrepreneurship and business. Yet, according to his research, there are a lot of benefits to learning business earlier in scholastic careers than later.
"What I try to articulate to my students is that you can be a producer instead of a consumer, and change your community. You can create generational wealth."
Many of his students come from very challenging backgrounds. "You can make a huge change for you and your family just by being an entrepreneur," Brown says. "You don't have to do something very big, you can start right where you are and do something small."
For more stories and news, follow the Fox School on LinkedIn, Twitter, Facebook and Instagram.