Manveer Singh, his cousin and their driver were riding through the streets of Nairobi, Kenya in January of 2019 when a bomb exploded. Within seconds, gunmen were firing indiscriminately at anyone on the street and the trio found themselves hiding in the back seat of their car as bullets pummeled the vehicle. 
The three men survived. Now, months removed from the terrorist attack, Singh, BBA '19, shrugs it off. The coffee business can be dangerous, the young entrepreneur says. 
Singh graduated in May 2019 and runs two businesses: Maharajah Coffee and a network of Airbnb properties. He also works online as a stockbroker. Maharajah Coffee is his passion project and his vision for it began years earlier as he hiked along the border between the Brazilian states of Espírito Santo and Minas Gerais, a few hundred miles north of Rio de Janeiro. 
Singh passed what he thought was a winery due to the bustle of men carrying large sacks heaved over their backs in the heat. But the farmer, a friendly, tall man in a big fedora named Ernesto, flagged him down. When he stopped, Singh took note of the strong coffee aroma. 
The two men started chatting, face-to-face. Singh prefers face-to-face conversations. He lost 95% of his hearing about 10 years ago and often relies on reading lips to "listen" to what other people are saying. Singh toured the coffee farm and learned about the farmer's process for growing and harvesting the beans. He already knew that, often, the farmer had to settle for less than a fair price. 
They parted with a handshake and Singh began to dream of starting his own coffee business. "I want farmers to have a better life, I want to pay them fairly," Singh says. "What happens if you do not pay them fairly? Some farmers have committed suicide, some have sold their land. If there are no coffee farms, there is no coffee. A life without coffee is nothing."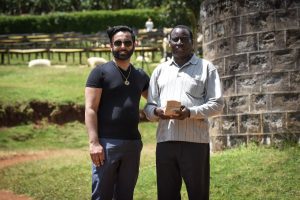 Struggling to find his path
As a teenager, Singh began to lose his hearing. He adapted to his new normal and in 2012 he came to the Fox School. 
"Fox's international business program is really diverse—there are a lot of students from different countries," Singh says. "Students from China, Kuwait, Saudi Arabia and India come here to study and we all get to learn from each other about different cultures." 
As enthusiastic as he was about Fox, Singh struggled to adjust. Trying to read the lecturers' lips was not easy for him; he often felt confused and anxious. By 2013, he faced academic dismissal, so he decided to travel and find opportunities to volunteer. As a Sikh, he took up Seva, or service, and traveled to Turkey, Syria and Nepal. Following an earthquake in Kathmandu, Nepal, Singh volunteered to help clear the rubble and search for survivors. Singh said the travel and volunteer work helped "put my mind and soul back together." 
Hearing loss is not a disability; not listening is  
In 2016, he returned to Fox and his lip-reading skills improved. Taking online classes worked well for him. His grades improved, but he still struggled at times. The key, Singh says, was that he never lost hope. 
Singh attempted to find internships and other job opportunities, but he was turned down, occasionally because of his hearing loss. Singh learned to turn that rejection into a source of inspiration after realizing that the true disability was others' inability to listen to him and see his value. 
"I used to think my hearing disability was my obstacle until one day I realized that was not true," Singh says. "It did not matter that I had 95% hearing loss, it is the people who cannot see what I can do that are the obstacle." 
He decided if he could not get hired, he would run his own business. 
In 2017, he cashed in stocks and started two companies, one based on turning real estate into Airbnb locations and the other, partially inspired by that conversation with a Brazilian farmer, was Maharajah Coffee. 
Singh's model is simple: he finds quality coffee grown at organic farms and he pays farmers fair market value. 
"I want farmers to harvest their seeds with happiness," Singh says. "If a farmer harvests their seed with depression or sadness, the coffee will be bitter."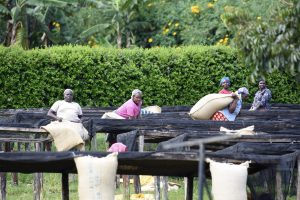 Earlier this year, in January, he went to Kenya to visit his father's family, and, of course, meet some farmers to try some coffee. He felt welcomed by the Maasai tribe and was intrigued by the strong coffee grown in the red soil of the Kenyan mountainsides. 
On Jan. 15, 2019, while Singh and his cousin, a government official, were traveling through Nairobi, there was an explosion and several gunmen started firing on a crowd. After the gunfire died down, the men hid in the car for about an hour before they climbed out of the bullet-riddled vehicle and ran for home. 
"The coffee business can be risky sometimes," Singh says, noting that in many countries, the areas filled with coffee farms are also known hideouts for criminals and terrorists. But Singh was not deterred. 
By February, Singh started selling coffee from Sumatra, Ethiopia, Brazil and Kenya. He sells one-pound bags of whole beans or coffee grounds online through Amazon and plans to open a shop in the U.K. 
Courage and hope
"In the future I do hope to become a motivational speaker to inspire others and help them succeed," Singh says. "When you are going through hell, there are three things to keep in mind: keep smiling, have hope and don't let yourself down."