New leadership is brewing at Temple. Two Fox students take the helm of the Saxbys campus cafes as new Student CEOs.
There are at least two Fox School students who are looking forward to the grind of the fall semester.
Katherine Ducharme, a junior majoring in international business (marketing concentration) and minoring in management information systems, and Jerry Kalins, a senior majoring in entrepreneurship and innovation, will get hands-on experience running a cafe as a part of Saxbys' Experiential Learning Platform (E.L.P).
Through E.L.P., Saxbys partners with universities to provide experiential learning opportunities by having students run a cafe in their college community. Open to Fox and Sport, Tourism and Hospitality Management (STHM) students, Ducharme and Kalins decided to apply.
Although neither were avid coffee drinkers, that didn't stop them from pursuing the student CEO position.
Ducharme, who will oversee the Liacouras Walk location, learned about the position through a Fox newsletter and decided to apply.
"Having a very entrepreneurial mindset myself, I thought this would be a really cool opportunity, and that I would be able to make of it whatever I put into it," she says.
After learning about the position from an academic counselor, Kalins, who will be leading the Fox School of Business location in Alter Hall, realized that getting first-hand experience of the coffee shop industry was too good of an opportunity to pass up.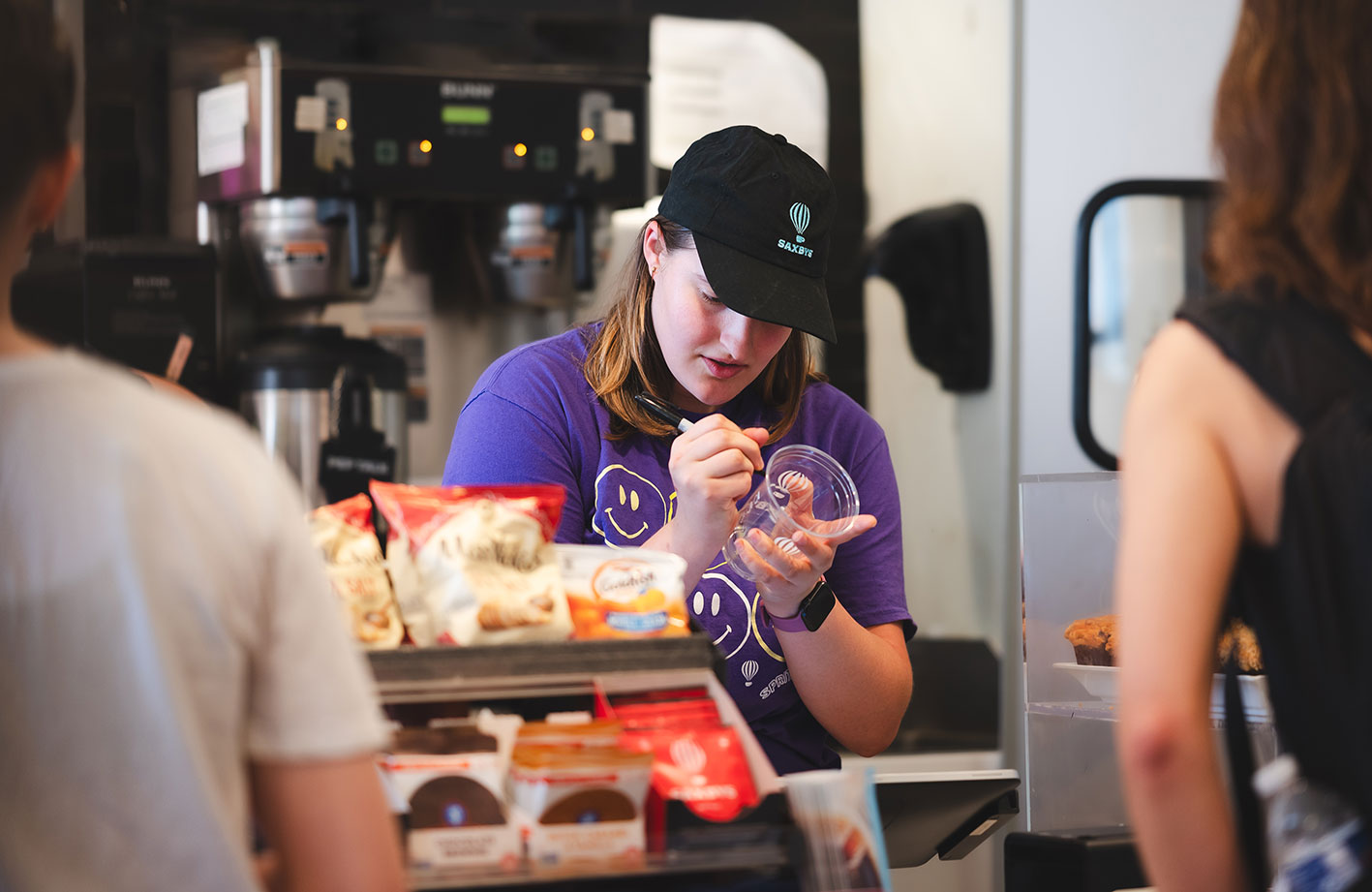 "I never want to go into things blind," he says. "I'm going to open a cafe after I graduate so running [Saxbys] before I do that would really test my knowledge on it, and better prepare me for my future."
Not only will Ducharme and Kalins get on-the-job experience, but they will also receive academic credit for their internship requirement and a stipend. Sounds like a brew-tiful opportunity.
When Ducharme and Kalins each found out about the role, they couldn't hide their joy.
"I was ecstatic," says Ducharme. "I ran to tell my mom I got it! We both lit up! It's one of those moments kind of like when you get into college or you get the job you've always wanted."
Kalins had a similar experience.
"It was the best news in my life," he says. "I remember I was walking down my street about to go into my house, I got a call and I just started screaming. I wanted it, especially wanting to open a cafe."
So how what does the day to day look like in this role?
As student CEOs, they are responsible for the day-to-day operations of each Saxbys cafe for the semester. Their three main responsibilities fall under the Saxbys' pillars of financial management, team development and community engagement, which include tasks such as managing profit and loss, training and developing team members, and hosting community events. Ducharme and Kalins say that's how the learning happens. They'll learn the ups and downs of a business as a leader and entrepreneur.
As Fox students, this position provides a chance for them to apply the lessons from the classroom to the real world before graduating.
"Fox taught me a lot when it comes to patience but also a lot when it comes to those small skills that you use in everyday life," Kalins says.
Ducharme says that classes such as business society and ethics, intro to marketing, and business communications have given her the tools to succeed in this position.
"In my intro to marketing class, we had to build our own marketing presentation. That's something I also had to do at Saxbys within my onboarding process, so I was able to create and initiate a marketing plan using my allocated budget," Ducharme says. "We get to initiate them with help from our advisor at headquarters."
As student CEOs of their respective cafes, Ducharme and Kalins hope to grow as leaders and flex their entrepreneurial muscles. They also hope to collaborate and see how they can jointly market to the different demographics they serve. Ultimately, they want to serve their Temple community.
Looking toward the future, Ducharme and Kalins both have their eyes set on post-graduation goals.
"I do definitely see myself in a leadership position quickly after graduation, whether I continue into a master's program or I go straight into the workforce." Ducharme says. Her interests include working for the U.S. State Department or work that includes corporate sustainability into marketing practices.
For Kalins, he's ready to hit the ground running when he graduates in the spring.
"My business plan is all done. Roots & Grounds (my future café) will be set to open come 2025."
With two years left in her program, Ducharme is savoring every opportunity at Temple and beyond.
"I am finalizing plans for government-related internships in the spring/summer and planning to spend another semester abroad," she says.
In the meantime, the Student C.E.O.s will be at Saxbys daily, serving the Temple community.