This Owl has shown what it takes to soar. Robert Joseph Cruz, Class of 2024, is a Fox Honors student and management information systems major. He shares his story of framing an enriching academic and professional career—from deciding on a major to rising to the role of photo editor at The Temple News, the university's student-run newspaper.
World of Opportunity
I chose Temple University because of the opportunities I knew would be available to me. Growing up in the Poconos, I saw the advantages of attending a big school in a big city. I always knew I wanted to be an entrepreneur or business executive–so even though I entered Temple's Fox School of Business as an undecided major, I knew I would find an academic path perfect for me.
It was through the management information systems (MIS) digital systems class with professor Mart Doyle that I discovered my strengths. I loved this introductory course! It was fun and interesting–and I realized that I was good at the assignments. Ultimately, I felt that majoring in MIS really fit me.
Big Ideas
Combining my MIS coursework and entrepreneurial ambitions with my love for photography, I started RJC Pictures in the summer of 2021. Many of the marketing, communications and analytical skills that I've acquired at Fox can be applied when running my company—a full-service photographer specializing in portraits, events and sports photography. One key thing I learned is how to interpret Google Analytics. This has allowed me to understand where most of my web traffic is coming from and how I can maximize that potential. And then there's professor Katie Gerst's honors business communication class. She helped me become a more concise and to-the-point communicator.
I also use the networking skills that I learned at Fox to build a wide web of connections. From the business school, I was able to connect with people at The Temple News who introduced me to people in Temple's Klein College of Media and Communication and Temple Athletics. From there, I was able to make connections with people from the Philadelphia Inquirer, Wall Street Journal, Major League Baseball and the Associated Press.
Framing a Career
I joined The Temple News as a freelance photographer. It started off slow, only getting my photos published once or twice initially. However, perseverance pays off. In fall 2022, I joined the paper again and picked up a bunch of sports games, starting with soccer and field hockey. Once I proved myself, I was given the privilege to photograph two football games, which led to shooting a series of men's basketball games.
Shortly thereafter, I earned the role of assistant photo editor. I grew tremendously during this time, learning how to both manage a team of photographers, as well as having to be accountable to The Temple News senior staff. I am proud to say that my hard work propelled me to the position of photo editor.
Capturing a Moment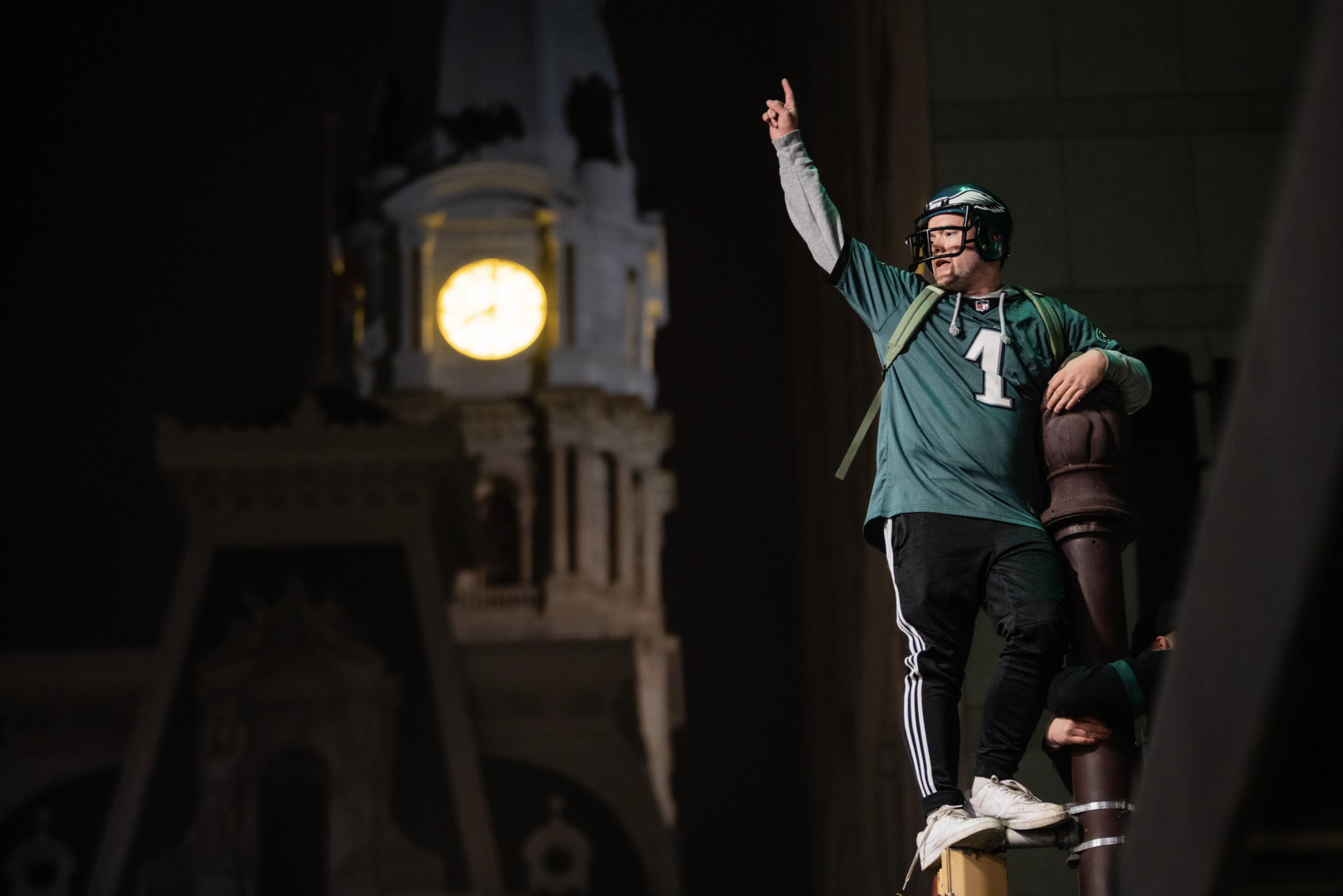 I heard about the reputation of Philadelphia fans, but not being from here, I didn't know the extent of it. Before playing the 2023 NFC Championship game, everyone around campus kept saying that if the Eagles win, fans will go wild. Thus, after punching their ticket to the Super Bowl, I headed to City Hall to photograph the much-anticipated celebration. I captured this fan after he climbed up a traffic pole on South Broad and pointed his finger to the sky. Framing him right in front of City Hall—I have to say this is one of the most favorite photos I've taken.
Making Moves
Being an entrepreneur is hard, especially while being a full-time student. However, I have learned invaluable time management skills to help me achieve a good balance. I also find inspiration from ESPN commentator Stephen A. Smith. Listening to his personal experiences has inspired me to work harder at everything I do.
My academic courses and professional opportunities have served me well during my current internship at Grant Thornton where I am an IT audit intern. I am committed to continuing my journey at Grant Thornton as I have been offered a full-time associate position after I graduate. Meanwhile, I will continue building RJC Pictures as my dream job is to photograph professional sports for the Associated Press, particularly NBA basketball, NFL football and boxing.