Who doesn't want to be their own boss? Entrepreneurship is part of the American dream, to work for oneself and be the master of their own fate. And that is exactly what Temple's Innovation and Entrepreneurship Institute (IEI) promotes through its Be Your Own Boss Bowl (BYOBB)— a business plan competition open to Temple students, alumni, faculty and staff who have an idea, a business plan and the drive to make their dreams a reality.  
Originally named the Business Plan Competition, the BYOBB celebrated its 25th anniversary in 2023. This year, four finalists in the undergraduate track and four in the upper track went head-to-head to compete for the grand prize of $30,000 in seed funding for their business!  
The BYOBB promotes social responsibility, innovation, community-building and a healthy dose of competition. Each venture submitted gets rounds of reviews before the finalists go through a rigorous process that includes more pitch coaching and more.  
This year's Grand Prize Winner was Accessum, founded by Dr. Aroonsiri (June) Howell, MBA '25. Her approach to bringing equity into rural healthcare access—while also solving for costly specialists and doctor burnout—impressed the judges, who awarded Accessum the top prize of the evening.  
According to Accessum, "For 46 million Americans in 1,796 rural hospitals across the US, access to specialists is 70% lower than that for urban patients. Many rural hospitals are unable to recruit enough specialists or do not have the patient load to justify doing so."  
Howell aims to solve that problem by offering telemedicine with in-patient specialists, bringing care to those in need, more flexibility and autonomy for doctors in the post-COVID-19 world, and offering hospitals a cost-effective solution to an otherwise expensive problem.    
"June is the embodiment of the Temple spirit of entrepreneurship and what the BYOBB® aims to do," says Greg Fegley, director of the IEI's accelerator programs. "Through this program, the IEI supports entrepreneurs with big ideas and startups who can make a difference in the world. Accessum has the potential to revolutionize healthcare in rural areas, saving lives and lowering costs. We are proud to be part of her support network helping June in her mission."
Check out all the 2023 BYOBB winners below.  
Undergraduate Track  
FIRST PLACE: NIRVA Device  
Zoe Wevodau, ENG '23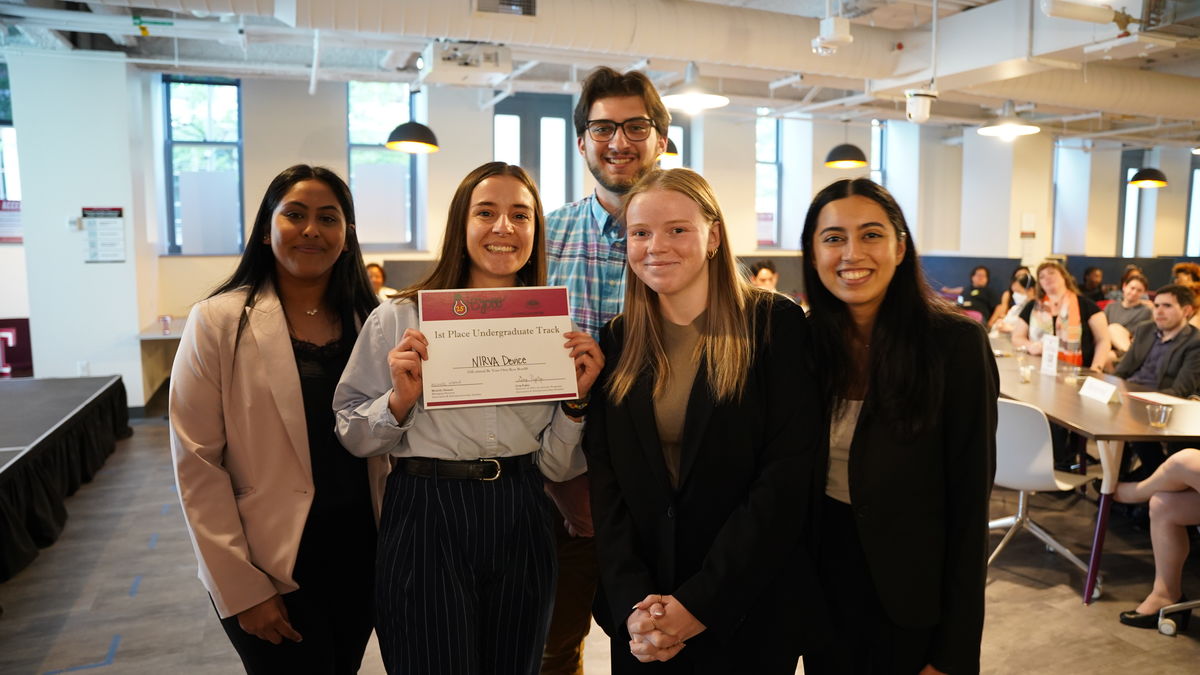 Presented by CEO and co-founder Zoe Wevodau, the NIRVA Device helps make preventative diagnostics for diabetic people more accessible. Utilizing affordable technology, the NIRVA device tracks the blood flow through the arteries to measure the patient's health.  NIRVA also won the People's Choice Award. 
Like many previous competitors from the College of Engineering, Wevodau first developed her idea during her senior design course. 
"This gave me the opportunity to take the project past graduation and bring it to market," says Wevodau.    
SECOND PLACE: Light Life  
Allison Chiu, STHM '24  
The company Light Life innovates within the lighting industry by putting consumer protection first. Their device, Sunny Light, protects people's skin by eliminating the use of UV light. Additionally, their Sunny Light has two color temperatures (white and yellow) with five levels of light brightness for different purposes. It also includes a timer that mimics the sunrise.  
THIRD PLACE: Mermead   
Sophia Whitney, KLN '23  
Working to save the environment while tantalizing the tastebuds, Mermead is a mead company that provides sweet, natural alcohol that is both accessible and environmentally friendly. The company aims to bring mead, which is made from fermented honey to a modern market. 
Throughout the BYOBB process, founder Whitney—like many of her fellow entrepreneurs—took advantage of the IEI's resources and networks to improve her business and pitch. Those opportunities, which all members of the Temple community can tap into, include expert mentors, peer mentorship, IEI-presented workshops, the Entrepreneurial Student Association (ESA) and more.  
"The mentorship specifically has been a big help," says Whitney. 
FOURTH PLACE: Vanity de Claudè 
Claudine Attoh-Okine, BBA '24  
Originating from the founder's passion for makeup growing up and desire to become a business owner, Vanity de Claudé is a black-owned startup cosmetics company. Founder and CEO Attoh-Okine translated her passion into products: multi-use cosmetics for both personal and professional use.    
Upper Track Finalists  
FIRST PLACE: Accessum LLC  
Dr. Aroonsiri (June) Howell, MBA '25  
A winner in both this year's Innovative Idea Competition and Changemaker Challenge, Accessum supports access to healthcare in rural areas by recruiting top-notch specialists for in-patient telemedicine in locations where these specialists would otherwise be unavailable or too expensive.  
Coming from a medical background, Howell credits the IEI's support in helping her create a business plan for her venture. 
"This competition provides a structure and framework that a startup founder needs to know to know, especially a founder without a business background," says Howell.   
SECOND PLACE: PreventGen 
Bernardo Castro, ENG '11  
PreventGen seeks to revolutionize breast cancer screening, prevention and treatment. To do so, they use a biobank of ground-breaking genetic data, which fills gaps in the understanding and treatment of this disease.    
The competition has helped validate the product and give it a financial boost.  
"It gives you a stamp of approval and more confidence to gain more investments later," says Castro.   
THIRD PLACE: Neftwerk Inc. 
Francesca Augustine, TYL '14 
Neftwerk Inc. creates solutions for art professionals and consumers using blockchain technology and NFTs. Founder Francesca Augustine, known professionally as Francine Affourtit, uses their experiences in the art world and knowledge of blockchain technology to Neftwerk Inc. to modernize art consumption ethically. She does this by giving artists a way to make money and fight against plagiarism via NFTs.   
"The IEI is the connection to the community and resources that are most important to starting your organization," says Augustine.   
FOURTH PLACE: Pure Eden Foods, Inc. 
Sierra M. Bretz, BBA '96 
Pure Eden Foods, Inc. produces 100% biodegradable, compostable and plant-based bottles. Their mission is based on corporate responsibility and provides an alternative to plastic that is entirely environmentally- friendly. Their first product is olive oil, and they are planning to launch bottled water next.  
Each organization has its own mission, but they all add up to one thing: using entrepreneurship to make the world a better place. Over the next few weeks, stay tuned for even more inspiring entrepreneurs from the past 25 years.  
Watch the 2023 competition here. Check out how the IEI can help you here.