It's good to have a plan. It's even better when those plans converge at that sweet spot where personal and professional goals align. 
"I've heard about this thing called the 'millennial boomerang,'" Kiki Leavy, MS '22, says. "Redefined, it's when you leave your hometown, settle into a new area and gain some type of expertise and knowledge. 
"Then you move back home and implement it within your home community to help it grow and become better." 
She speaks from experience.
Leavy is from Cleveland and it's where she first began to dream of one day starting a nonprofit organization that would help former foster youth achieve their greatest level of success.  
Born in the late 1980s, at a time when many children were being placed into foster care due to the widespread crack epidemic in the United States, Kiki was placed into the foster care system at birth. She was later raised by her great aunt and uncle whom she loves as her parents.  
Growing up, her parents always stressed the importance of not forgetting where you come from, getting an education, working hard and doing things in life that you enjoy and love. 
While pursuing her undergraduate degree at Malone University in Canton, Ohio, Leavy told a mentor about her idea of starting a nonprofit organization that would help former foster youth. 
He encouraged her to research organizations that aligned with her goal. That's when she first found The Monkey & The Elephant, a cafe in Philadelphia's Brewerytown neighborhood that employs and supports former foster youth. 
In 2018, Leavy reached out to the cafe with a message that read in part: 
While doing a project for class, I was in search of a nonprofit organization that helped aged-out foster kids with "The Big Transition." The transition out of foster care and into the world. 
In my search, I came across your website (The Monkey and the Elephant). I was a foster child and a few years ago I received a calling from God to help foster kids, to provide them with opportunities that were made available to me while growing up. Seeing your website has given me so much inspiration to make this vision happen. 
The response she received back from the cafe encouraged her to pursue her dream.  
A year later, she headed to Philadelphia on a road trip with friends to celebrate her birthday, check out the cafe, see the city and return to Cleveland. But before heading back, her brother suggested she include a stop at Temple University in her travel plans. 
"So, I roll past the Temple community and just absolutely fall in love with the area," she says.  
She moved to Philadelphia in May 2019 and she settled in as an administrative specialist at the Small Business Development Center at the Fox School of Business. Leavy eventually decided to get her master's degree in Innovation Management and Entrepreneurship (IME), specializing her concentration around nonprofits.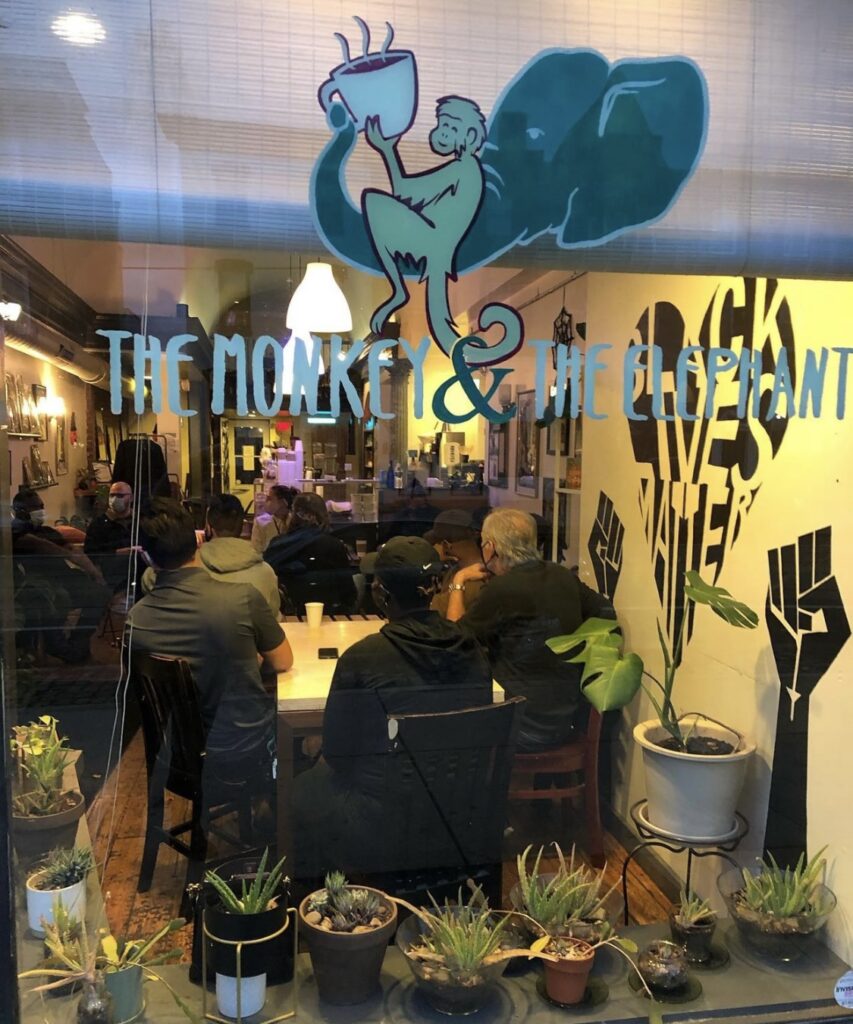 "I knew prior to coming to Philadelphia that I wanted to pursue my master's degree, but I wasn't 100% sure of what I wanted to major in," she laughs. "While reviewing the IME curriculum, I came across the Fox Board Fellows program and said, 'Oh, my gosh! This is my way into The Monkey & The Elephant. This fellowship will allow me access to experiencing nonprofit operations prior to starting one of my own!'"  
The Fox Board Fellows program is an elective course for graduate students interested in learning more about nonprofit organizations. Each student is paired with a nonprofit organization that aligns with their interests and serves as a non-voting member of the board of directors.  
Leavy worked with Maureen Cannon, senior associate director at Fox Management Consulting, to help coordinate the fellowship program with The Monkey & The Elephant.  
"We have nonprofits in our network that we match with the fellows, but we still allow and encourage them to connect prior with organizations they care about and bring them on board," Cannon said. 
During Leavy's time at The Monkey & The Elephant, she gained valuable knowledge on the business end of a nonprofit and contributed her skills to enhance the company's productivity.  
"Part of my project included strategic planning where we would re-evaluate the company's mission and refine their logic model," Leavy said.  
Leavy is determined to fulfill her dream of creating a nonprofit that embraces and supports former foster youth. 
"It's more personal for me," she says. "It's my way of just giving back. I understand all the hoops and hurdles, the challenges and the barriers that former foster youth have to overcome to achieve any type of success because I myself was a former foster youth," Leavy says. "I simply would like to help young people who come from a similar environment." 
Leavy has moved back to Cleveland and is comfortable in her game plan, knowing that the nonprofit is more of a long-term goal and is using this time to build the foundation.  
"My goal now is to figure out where I would want the organization to exist in Cleveland, maybe restore one of these industrial warehouses," she says.   
She currently works at the Cleveland Institute of Art as the assistant director of Continuing Education and Community Outreach. In that role, she's working with both youth and adults to help coordinate non-degree and community outreach educational opportunities. 
Leavy has also launched her own business, Kinetic Kiks, where she offers a range of virtual administrative services to small businesses in need of her business acumen.  
"I'm really happy right now," she says. "I'm working with different businesses, building my network out, letting people know who I am and what I want to do. I'm grateful for everything that has happened—every opportunity, every person that I've met along the way, every challenge, every barrier that I had to overcome."  
Sarah Weitzmann contributed to this article. 
For more information about the Fox Board Fellows program, click here.