Photo by Megan Chapman
"In financial statements, diversity and representation affect the bottom line. If diversity matters so much, why is there such a significant disconnect between what we see on the field in the National Football League (NFL) vs what we see in its coaching ranks?" asked Temple University's President Jason Wingard. 
Wingard posed this question in his opening remarks at the "Rooney Rule Revisited: Race and Diversity in Sports and Corporate America" on Sept. 21, 2022, hosted by the Fox School's Center for Ethics, Diversity and Workplace Culture (CEDWC) and Department of Marketing, as well as the School of Sport, Tourism and Hospitality Management (STHM), Temple Athletics, Beasley School of Law and Klein College of Media and Communication. 
The Rooney Rule was launched in 2003 and named after Dan Rooney, former owner of the Pittsburgh Steelers. It stipulated that all 32 clubs in the NFL interview at least two women or people of color when seeking to fill prominent positions within the league.  
Nearly two decades later, the issue of diversity within NFL leadership persists: 71% of the players in the NFL are people of color, but only 10% of the coaches in the NFL are. 
"Since the implementation of the Rooney Rule 19 years ago, the NFL went from having three coaches of color to four coaches of color," said Wingard. "We don't want it to be 20 years before another minority coach is added to the NFL's leadership ranks."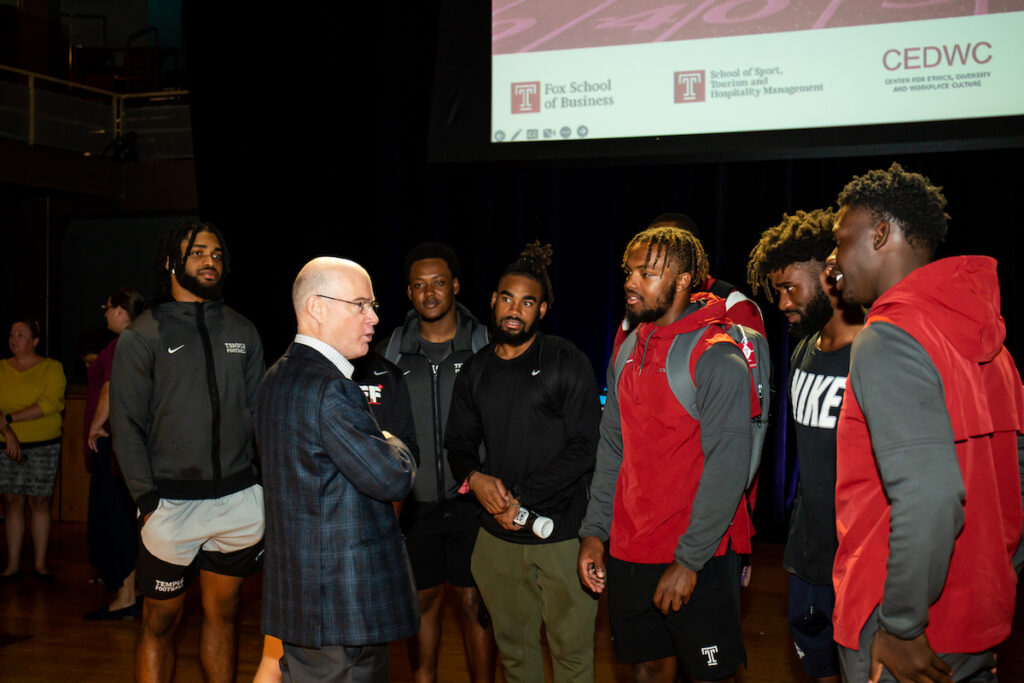 Photo by Megan Chapman
So why has the rule been ineffective in bridging the gap between player diversity and diversity in executive positions in the NFL?  
At the event, N. Jeremi Duru, professor of law at the American University, and Jim Rooney, chair of the Pittsburgh Steelers and son of Dan Rooney, offered their thoughts during a talk moderated by Debra Blair, associate professor at STHM. 
The conversation kicked off with a recent example of the NFL's struggles.  
"You can't talk about the Rooney Rule without bringing up the Dolphins lawsuit," said Duru.  
Brian Flores was an assistant head coach for the New England Patriots before transferring to a head coach position for the Miami Dolphins in 2019.  
"Flores was scheduled to interview with the Giants for a head coaching position but found out that he lost the job to Brian Daboll three days before his interview date," said Duru. Flores eventually filed a class action lawsuit against the Dolphins, Broncos and Giants, alleging racial discrimination. 
Duru explained that the Flores case proves that clubs are engaging in sham interviews—bringing in people of color to interview to satisfy the Rooney Rule and then hiring whoever they wanted to hire. 
"The league was not holding these people accountable, and the violators weren't being penalized for breaking the rule. So, the rule ended up among owners to be viewed as kind of a paper tiger, not something to be respected," said Duru. 
"Many issues in the rule arise from lack of transparency in the hiring process," added Rooney. "How do you look at promotions? How are you going to conduct promotions? What is the policy for bonuses? There needs to be transparency in these processes." 
Rooney continued to say that in business school, students are taught key concepts that apply to situations like this: change management, incentives and accountability.  
"There must also be a willingness to learn from mistakes," said Rooney. 
During the talk, he told a story about how his father pioneered change within the Steelers. Rooney said that in the 1960s, when Dan Rooney wrote about his business plan for the team, he wanted the Steelers to be one of the most highly diverse teams in the NFL. 
After his business plan was released, it was criticized by a prominent Black editor Bill Nunn of the Pittsburgh Courier. Nunn expressed that despite Dan's plan, the Steelers were in no better position in terms of diversity than the other NFL teams. As a result, Dan hired Nunn as a coordinator and soon representation within the Steelers increased. And in 1978, three Black captains were instrumental in scoring a Super Bowl Championship for the Steelers for the first time. 
"There should be a sincere commitment to educate people and bring them to understand the differences between equality and inequality," said Rooney. 
Duru added that when league practices were challenged, an economist from the University of Pennsylvania decided to analyze head coaching wins between 1986 and 2001.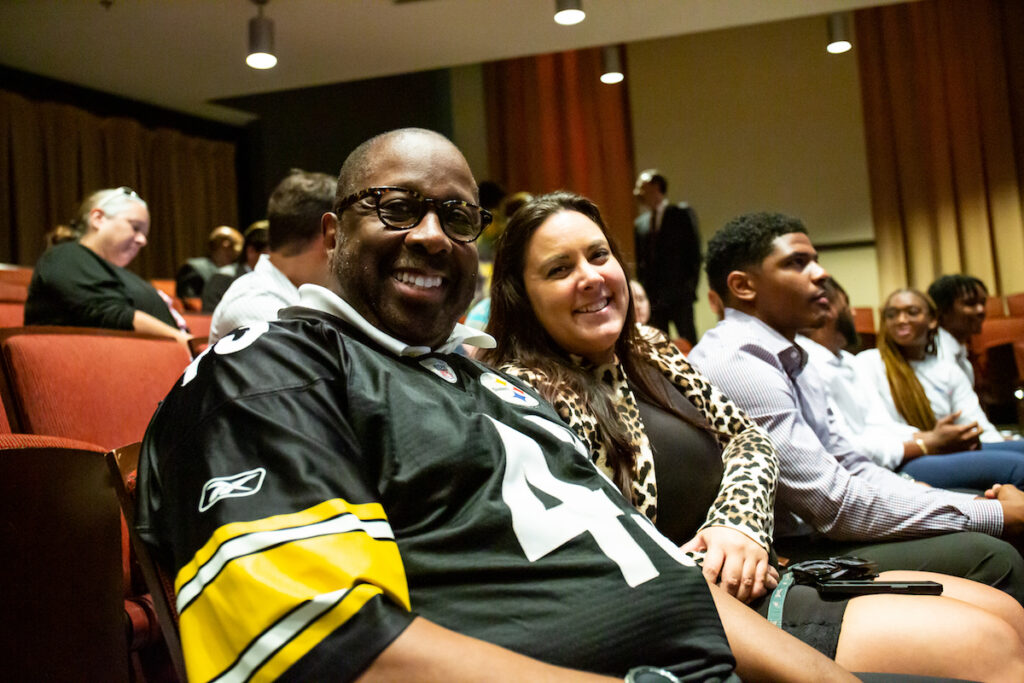 Photo by Megan Chapman
"Her findings showed that during that period of 15 years, Black coaches won more games, went to the playoffs and were doing a better job overall," said Duru. "The conclusion of the study was not that Black coaches were inherently better; it was that because Black coaches had been apprentices and assistant coaches for so long, when they got a chance to be head coaches, they were generally better than the coaches across the field." 
"Now we need to take a step towards transformational leadership," said Rooney. "This is going to be harder to sustain and requires motivation and intentionality." 
The discussion of the Rooney Rule is emblematic of the mission of CEDWC, said Leora Eisenstadt, associate professor of legal studies and founder of the center.  
"We created CEDWC to be a hub for research, dialogue and innovation, bringing together leaders in industry, government and academia to focus on building diverse workplaces and creating ethical and healthy workplace cultures," said Eisentstadt. "That's exactly what we're doing here today."  
Learn more about CEDWC, its mission and activities at fox.temple.edu/cedwc.