Starting college during a pandemic puts the Class of 2025 in a unique position as the future business leaders of the world. According to a recent Forbes article, a few skills professionals will need to succeed in the future of work: creativity, technical skills and the ability to embrace change. 
USA Today found that, based on a Harris Poll, more than half of Gen Z (56%) consider themselves creative, compared to 44% of those over the age of 24. So, creativity, Check. 
The Class of 2025 is among the first digital natives born into a world of technological advances and innovations. They are unlike other generations, who either grew up without or came into adulthood during the rise of social media, smartphones and instant accessibility of information. They are also living and learning in an age where the curriculum at the Fox School and beyond is focused on teaching analytical and critical thinking. Technical skills: Check, check. 
Finishing high school and entering college during a global pandemic that required switching from in-person to virtual and hybrid learning? Ability to embrace change, check, check, check. 
We are excited to join four first-year students on their journey through the Fox School, armed with these skills and many more. Let's meet the Class of 2025. 
Jennifer Zheng 
Photo by Joseph V. Labolito
Major/minor? 
International Business with a concentration in sales and development 
Hometown?
Baltimore, Maryland 
Hobbies?
I cook a lot—most recipes from different countries. I'm very big on cooking Chinese because that's where my parents are from. I occasionally cook American cuisine, French, British, Indian, Korean, Japanese, Mexican. I do a lot of cross-cultural cooking. I also like to explore restaurants and landmarks and write Yelp reviews. 
In warm weather, I like to go hiking, swimming and play badminton and squash.
Current career goals?
​​I'm interested in going into consulting and eventually working with human resources in recruitment. Later,  I would like to go into the teaching profession—working as an adjunct professor, working in the field and teaching on the side. 
Where do you see yourself in 2025?
In 2025, I hope to have completed a variety of internships. I am also studying abroad in Taiwan, so I'm hoping by the time I graduate, I have had a bunch of experience and an understanding of different cultures, personally and professionally. 
 Yvonne Nguyen 
Photo by Joseph V. Labolito
Major/minor? 
Business management major with communications minor 
Hometown?
Germantown, Maryland 
Hobbies?
In high school, I was a varsity athlete. I played volleyball, track—I like working out. I like painting and reading. 
Also, I am a Christian, so I'm looking into youth groups to join. 
Current career goals?
Some short-term goals I have are to learn how to manage my money and to invest. I want to make the Dean's List this semester. 
My long-term goals are that I want to be able to help my family business. They own a restaurant, so I want to be able to help them manage their business, as well as work on business ventures of my own. 
Where do you see yourself in 2025?
Well, I hope to be graduating! 
Andrew Belder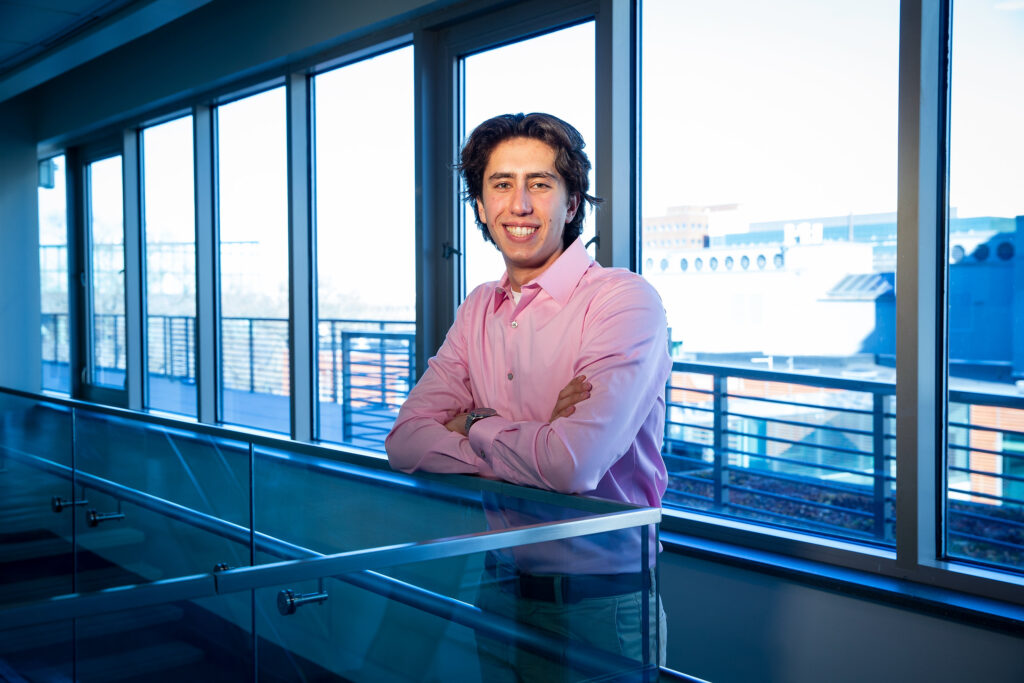 Photo by Joseph V. Labolito
Major/minor? 
Finance major with the hope to add an engineering major as well. 
Hometown?
Holland, Pennsylvania
Hobbies?
Everything's kind of been changing a little bit since high school. This is my first year not actively on a sports team. Now I'm getting into running and lifting weights on my own—I'm doing things not to stay healthy, not for competitive reasons. 
One of my big goals is to do an Ironman Triathlon before I'm 25. So I guess I'm doing to be training during college to help get me there. 
Current career goals?
I want to go into investment banking on Wall Street. But there are a lot of different avenues I can take from there—maybe consulting, private equity, venture capital. I'd love to end up on the engineering side or entrepreneurial side of some of these businesses as well. 
Longer-term, I see myself leading a startup or something like that. 
Where do you see yourself in 2025?
I just want to be in a position where I'm fostering relationships. I love interacting with people and learning from their experiences, so I hope to be doing that.