After experiencing virtual reality (VR) headset for the first time, Ethan Berg, BBA '20, knew he wanted to bring VR to the masses in a new way. 
"My dad brought home a VR headset, and it made me realize that this is the future and I want to be part of it," says Berg. 
Thus his idea for Agora World, a software platform that aims to incorporate virtual reality into everyday life, was born. 
Berg began the initial development of Agora World by trying to make online shopping more life-like through virtual reality. He would create worlds and stores for clients selling goods on Amazon or Shopify, so people could shop their products in 3-D, see life-size versions of what they bought and experience it with their friends and family.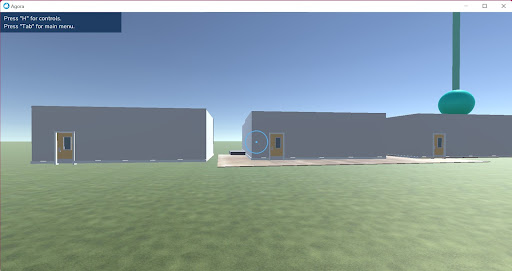 Then, in March 2020—just as business began to take off—the pandemic hit. The entire world was forced to go virtual. Suddenly, with more people staying inside, the need for online shopping increased and  Agora World became more of an in-demand resource. 
But Berg also saw students who were navigating virtual college classes miss out on in-person learning opportunities. That fall, Agora World pivoted towards supporting more social experiences other than just shopping. They also moved away from VR headsets and started focusing on the metaverse—something that Facebook had also just announced and brought to the forefront of the consumer's minds.
In November 2021, Berg took his idea to the Innovation & Entrepreneurship Institute's (IEI) annual Innovative Idea Competition, where he took home the $1,500 grand prize, as well as a $1,000 Digital Innovation Award, sponsored by the Digital Innovation Foundry at Temple University. The Innovative Idea Competition is for budding entrepreneurs, like Berg, who are hoping to transform their ideas into full-scale ventures and look to the IEI and its annual competitions to receive dedicated mentoring and coaching on their investor pitch.
Taking full advantage of the resources that the IEI has to offer, Berg was able to network with like-minded entrepreneurs, receive valuable feedback on his venture, take classes to help develop and grow his business, all while winning some seed-funding money along the way. Berg plans to keep the platform open to others so they can apply their own ideas, and truly "create an industry standard that doesn't exist," says Berg. 
Fully utilizing his network, Berg reached out to the Fox School's Instructional Design and Technology group who in turn, introduced Berg to Steven Sclarow, assistant professor of management information systems, to put Agora World in the hands of students. Students in Sclarow's user experience (UX) design course learn the principles of UX design and then apply them within the framework of Agora World. 
"The students are creating a user experience, while also experiencing it themselves," says Sclarow. 
Agora World continues to focus on its existing clients and building different worlds tailored to each of their unique needs. For example, Berg is working with Pat's Steaks to create a virtual restaurant that allows guests to visit the restaurant digitally and chat with other customers in real-time. Depending on a user's location, they can even order a cheesesteak that will show up on their doorstep through GoldBelly or Uber Eats delivery services.
In April 2022, Berg's unique spin on the digital presence of a business in the metaverse helped him land the $40,000 Grand Prize at the 24th annual Be Your Own Boss Bowl® (BYOBB®), another competition hosted by the Innovation & Entrepreneurship Institute.
Berg also took home a $20,000 cash prize for 1st Place in the Upper Track Agora World's grand total of $60,000 will be put to good use this summer as he expands his business. 
"It's really exciting to see a platform like Agora World, that is cutting edge in the way we communicate and network," says Mark Mitchell, a judge for this year's BYOBB® competition. 
The future of Agora World shines brightly in virtual reality. In addition to expanding their business for the general public to use, Berg and co-founder Sky Nite plan to continue fostering key partnerships with organizations like Unanimous AI and Blue Studios. Their long-term goal is to lower the barrier to entry into the metaverse by making it simple to create, access and share immersive social experiences.
Now, Agora World is testing their newest tool that removes the limitations of their original customization tool. Unlike the predetermined locations of their simple creation tool, the Advanced customization tool allows a creator to fully customize a world without bounds, adding media like images and videos as well as 3D models, mini games, and integrations directly to the space – all with the click of a button. Berg came back to IEI as part of a pilot series, leading users in creating a village, game and classroom area—all in the span of one hour—while building and navigating the software as a team. 
Learn more about how Agora World can help game-ify business. 
You can watch the 24th annual Be Your Own Boss Bowl on the Innovation & Entrepreneurship Institute's YouTube channel and learn more about the IEI at iei.temple.edu.