"We have two goals. One is to provide the opportunity to have a true hands-on real life college experience and the second one is to pay for it."

Hilda Bacon
This May, the Fox School and the B4USoar program hosted a networking event for local high school students interested in pursuing a college education. From senior accountants to urban designers for the city of Philadelphia, TECH Freire Charter School students were given the chance to learn about different professions and the pathways they could take to get there.
Founded in 2019, the B4USoar program offers students from Philadelphia's public and charter high schools the opportunity to attend college classes, tuition-free, and explore new opportunities for their futures. Students can earn transferable academic credits fully funded by the Fox School, with some earning up to six credits before they graduate. 
With opportunities to build confidence in college settings, thanks to real classes alongside college students, peer mentors, group workshops, and Student Professional Organization (SPO) fairs, students can get real-life experience surrounding their future careers. 
Hilda Bacon, B4USoar's program manager, explains the value of the program. "We provide the opportunity for underrepresented high school juniors and seniors who are academically strong to be on campus and have the experience to see that they actually can succeed in a college atmosphere."
"I talk with every single student who applies," Bacon continues. "And every single one says their goal is to earn free college credits and explore the college experience."
More than 60 students in ninth and tenth grades at the TECH Freire Charter School came to the Fox School to participate in the networking event. To kick off, Robert Chacko, BBA '99, a pharmaceutical project management consultant and the founder of Samsaric Brewing Company, shared his advice on the importance of networking and constantly learning; without it, he says, he wouldn't have been able to create the blooming business he has today.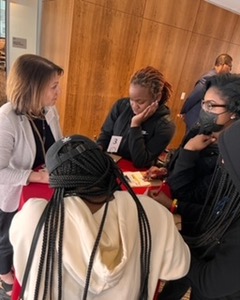 The students chatted with alumni and industry professionals, asking questions and learning how they can turn their interests into job opportunities. They heard stories from alumni like Ali Glickstein, BBA '14, and vice president of operations at Multifi, and Kostanca Toroveci, BBA '18, senior accountant at Comcast. 
Current Fox student Kelvena Gorley also answered questions about life as a student on campus and professional development opportunities like internships. This gave the TECH Freire students a chance to not only hear about career possibilities but what they could do in college to ensure they put their best foot forward. 
The B4USoar program currently has 20 local partner high schools, with 40 – 45  students participating in each semester. 200 students have gone through the program over the last three years—and many of them have gone on to attend college. These students can choose from twelve courses offered by B4USoar from across the university.
The plan? To keep growing. 
"Our goal is to have 200 students and about 25  schools per year," says Bacon. "We also plan to host this networking event several times next year." 
Thanks to B4USoar, these students now have the opportunity to experience incredible opportunities and flourish in a supportive environment. For more information, visit fox.temple.edu/b4usoar.