Maura Shenker accepting the 2021 Creative Funding Award
Our team gathered together with SBDCs from around the state for the PASBDC Awards Dinner in Kutztown, where our center was recognized for its hard work over the past year. We took home seven awards showcasing our dedication to helping the entrepreneurs and small businesses in our community start, grow, and prosper.
The center was awarded the 2021 Creative Funding Award, honoring the grant funding opportunities we received over the year, including a $1.5 million Economic Development Administration grant, which was used to create the statewide Pennsylvania Digital Transformation and eCommerce Program (PADTEP). The program is designed to provide no-cost digital and eCommerce consulting and education to entrepreneurs throughout the commonwealth most affected by the Covid-19 pandemic. Temple SBDC also received grants from PACDC, Santander Cultivate Small Business, CIBER, and ENRICH in the USA last year.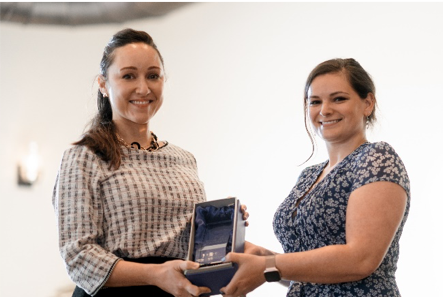 Jamie Shanker-Passero accepts the 2022 Ambassador of the Year Award
We were also awarded two Student Programs of the Year for our Digital Connect program and our Legal Clinic. The Digital Connect program, in partnership with the College of Science and Technology and Assistant Professor Rose Mcginnis, pairs small businesses with a team of university students to help refine and amplify their online presence. This can include website creation, digital storefront assistance, and website integration. The Legal Clinic, in partnership with Beasley School of Law and Rosalind Plummer Wood, Esq., provides no-cost legal services conducted by third-year law students to small businesses. All services are reviewed by a licensed attorney.
In addition to Center awards, four team members were recognized for their individual contributions to the mission of the SBDC. Iris Brudi, a Graphic and Interactive Design major at the Tyler School of Art and Architecture, took home the 2022 Student Project of the Year- East for her role in creating our 2021 Annual Report. Brudi has been working with the SBDC for almost a year and a half and is graduating in May 2022. When asked about her work, she said "During my time interning at Temple SBDC, it's been amazing to design and see the brand of Temple SBDC evolve and be able to reach and aid small businesses throughout the community! I'm extremely thankful to those on the team who gave me fun and interactive design work to do!"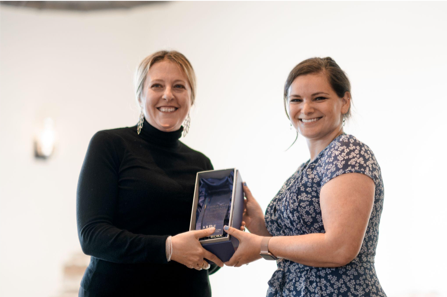 Erika Tapp Duran accepting the 2022 Team Spirit Award
Jamie Shanker-Passero was named the 2022 Ambassador of the Year. She has been with the SBDC for three and a half years and manages start-up programming and partnership development. Shanker-Passero said of this award, "I am proud of the work we do at the SBDC, which makes showcasing our programs to partners easy! Partnering with mission-aligned organizations has been a great way to reach more entrepreneurs and offer mutually beneficial programs. Even on the weekends, if there is an opportunity to be an SBDC ambassador, I will grab it. Catch me at a farmer's market with my SBDC tote bag full of produce chatting to a new vendor about an upcoming webinar they should sign up for."
Erika Tapp Duran received the 2022 Team Spirt Award. She's been with the SBDC since July 2019 and provides consulting services to start-up businesses. When asked about what her role at the SBDC means to her, Duran said "I truly love what I do and the mission of SBDCs. I'm passionate about helping my clients succeed and enjoy helping people achieve their dreams of starting a business. Every day at the Temple SBDC is a surprise, and I always have something new and exciting to work on. Plus, having such amazing coworkers who are just as passionate about the mission makes the work even better."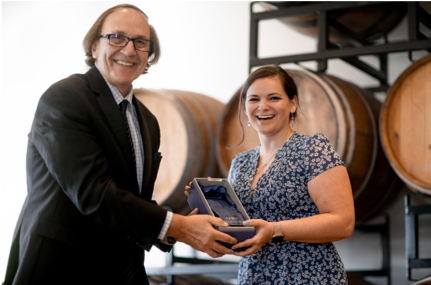 Sarah Mailloux accepting the 2022 Game Changer Award
Sarah Mailloux, who now works at the PA SBDC lead office as the Associate State Director of Programs & Policy, was awarded the 2022 Game Changer Award for her work on PADTEP while she was a Program Manager at Temple.
Temple SBDC Director Maura Shenker is proud to see her center acknowledged by the PA SBDC but was insistent that the kudos belong to her staff and partners. Shenker said "Although I'm very grateful for the recognition from our peers, the honor belongs to our incredible team of consultants and partners who make our work possible. I know I speak for the entire Temple SBDC when I say that we find real meaning in helping entrepreneurs and small business owners throughout the Philadelphia region."
If you are interested in receiving small business services from this award-winning team, you can sign up here.