Across the city's premier hospitals, Fox School alumni are leading the charge on the future of healthcare in Philadelphia and beyond. 
At Temple University Hospital, Thomas Jefferson University Hospital, Penn Medicine and Rothman Orthopaedic Institute, four top executives with six Temple degrees between them are moving towards a healthier, more equitable society. While the background and experience of these leaders differ, Temple and the #TempleMade community binds them.
Why are Temple alumni so well suited to forge forward and drive innovation in the healthcare industry? What does the future of healthcare in the City of Brotherly Love look like? What are each of these leaders doing in order to innovate? 
We spoke to presidents and CEOs of four of the largest healthcare systems in the city to investigate.
Learning effective, operational leadership in healthcare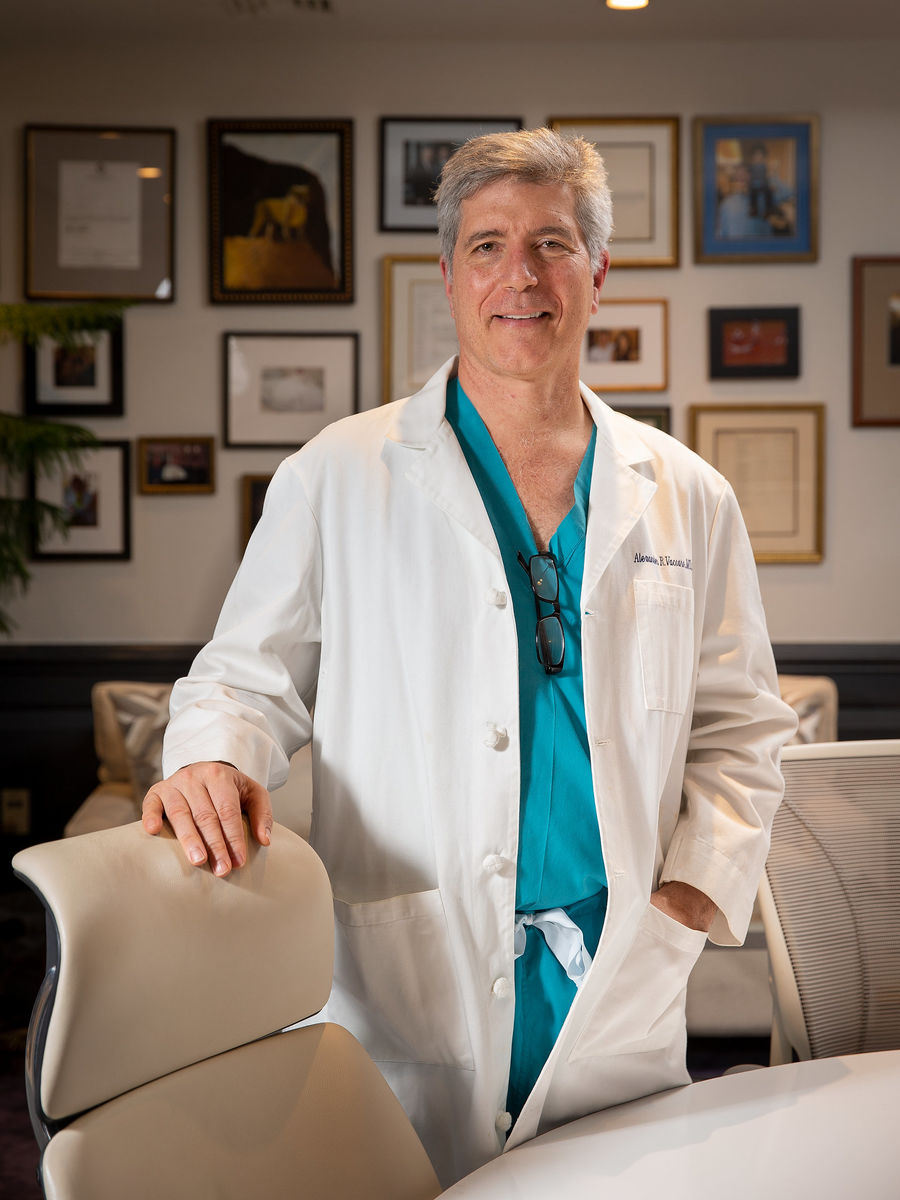 Photo by Joseph V. Labolito
"I want to tell you something interesting," says Alexander Vaccaro, MD, PhD, MBA '15, president of Rothman Orthopaedic Institute and attending spine surgeon. "When I came to this city in 1988, my dad had gone to the Wharton School of Business and he said, 'You've got to go to Penn.' So I came to this city and I started to deal with business people, medical personnel, attorneys and accountants and they all seemed to come out of Temple. I would expect them to come out of Wharton, and I asked myself, 'Why are all effective attorneys and physicians out of Temple?' Temple teaches you how to be a pragmatic leader. It teaches you how to be effective, how to operationalize whatever business initiatives you have."
In addition to his role as President at Rothman Orthopaedics, Dr. Vaccaro is the spine consultant for the Philadelphia Eagles, the Richard H. Rothman Professor and Chairman in the Department of Orthopaedic Surgery and Professor of Neurosurgery at Thomas Jefferson University and Hospitals. After carving out his space as an accomplished surgeon and rising in the ranks of the C-suite, Dr. Vaccaro started to feel something unexpected: imposter syndrome.
"I didn't feel comfortable with the basic elements of business such as analyzing an income statement, balance sheet and cash flow," says Dr. Vaccaro. "I felt I had a myopic view of the world concentrating solely on surgery of the spine. So at all the business meetings I went to, I faked it pretty well. And then I said, I can't fake it anymore. Getting my MBA was one of the most challenging academic endeavors I ever did."
Pursuing an MBA catalyzed Dr. Vaccaro's inclination towards life-long learning, which is a common thread that he recognizes among other Fox School students and alumni. "The Fox School stimulates continuous learning. It teaches you to be curious, to find answers to things you don't know. Look for more questions and just keep on learning. I expect every Fox student to continue to go to school—whether that means reading on your own, taking night courses, constantly educating yourself to learn more about life."
Many people and systems learned even more about life during the COVID-19 pandemic, which sparked unforeseen levels of innovation at Rothman Orthopaedics. With offices and public spaces shut down in 2020, Dr. Vaccaro's team had to figure out how to continue to care for patients despite the lack of consistent physical access—especially to patients who are receiving elective treatments.
"So we had to figure out how to get around that—how to keep the nursing staff, the physician staff and the hospital staff safe, access patients and make sure that they're staying healthy," says Dr. Vaccaro. "We innovated in the operating room. We redefined the algorithms of care. We use telemedicine and remote monitoring to follow the mental and physical functions of patients without the burden of travel. Remote monitoring allows the ability to follow the clinical recovery of a patient following an injury. One can now see if a patient is following the normal recovery path. If not, the doctor can be notified that something's wrong and can bring the patient into the office."
Through technology and telehealth, patients can experience personalized, specialized care without stepping foot in the doctor's office.
Providing a continuum of care for patients in the Philadelphia healthcare system 
Though Abhinav Rastogi, MBA '02, MIS '02, began his tenure as president and CEO of Temple University Hospital at the beginning of the year, his relationship with Temple has lasted nearly 20 years. Rastogi has served as director of the Project Management Office, associate hospital director of the Pulmonary Service Line and senior vice president of Professional Services. He came to Temple University as an international student after earning his Bachelor of Engineering degree from Mumbai University. 
Photo by Joseph V. Labolito
"Temple made it really easy," Rastogi says of his experience at the Fox School as an international student. "Even before setting foot on the campus, I was already connected to people from not only my country but from my city. I knew a lot of the courses that I was going to take, I knew which books I was going to read. So, communication was a big part of easing the whole process. And then reality matched what they had promised. And it just made it a very easy transition, not only for me but there were close to 100 different students, both masters and bachelors, that had come during that year. We all used to talk about our experiences, and nobody had one bad thing to say."
Looking forward to the future of Temple and healthcare across the city, Rastogi feels confident and underscored how talented the professionals are that come out of the higher education institutions across Philadelphia. 
"There's a lot of biotech development that's happening," he says. "A lot of startups, a lot of incubators. Philadelphia is a very rich city in terms of schools and colleges. And just like Boston, we're now retaining a lot of our students because of all of the opportunities here. They are ending up staying back in the city to contribute not only to healthcare but other areas too."
Giving back to the healthcare industry and innovating in that space is nothing new for Temple. The Temple Heart & Vascular Institute is a nationally recognized leader in heart transplantation and was the first hospital in the Delaware Valley to perform a heart transplant in 1984.
"You could look as recently as last year when one of our HIV cures was approved for its next series of research. All of that happens here at Temple University Hospital and Temple University Medical School. There's a lot that we do. 
"What else can we do? I think what we can do is focus on women's health. Temple acquired a healthcare campus, in the northeast of Philadelphia, which we have announced is going to be the home of the new Temple Women's Hospital. And when you look at our population in Philadelphia, about 25% to 30% of women are delivering babies without prenatal care. So, there are programs that we can create. Innovation isn't just coming out with new drugs, new technologies, new procedures. It's all also about providing a continuum of care for our patients and being innovative in how you hand off patients."
Another thing that Rastogi, and in turn Temple, will focus on in the future is mental health. They are expanding existing campuses and figuring out how to optimize the process of taking patients from the inpatient setting to outpatient. 
"We're contributing not only on the inpatient side but on the community side, partnering with different organizations so that we can provide the best services to our patients. So, you'll hear a lot about healthcare innovation, both in terms of program development, service development, as well as innovations in cancer treatments, surgery, cardiology, lung on the Temple forefront."
Making a difference in health inequity 
"One of the things that is overshadowed by the pandemic is the march towards eliminating structural racism," says Kevin B. Mahoney, MBA '15, DBA '18, CEO of the University of Pennsylvania Health System. "The pandemic hit Philadelphia in March of 2020. George Floyd was murdered in May of 2020. These two things are intertwined because they both exacerbated the inequities that are underway. I pledged, along with all my Temple alumni, to continue to work to make Philadelphia a health-equitable city. Where you're born, where you live, should not affect your health. We're fond of saying we need to make a difference at the Fox School. Truly, the difference we need to make is in health inequity."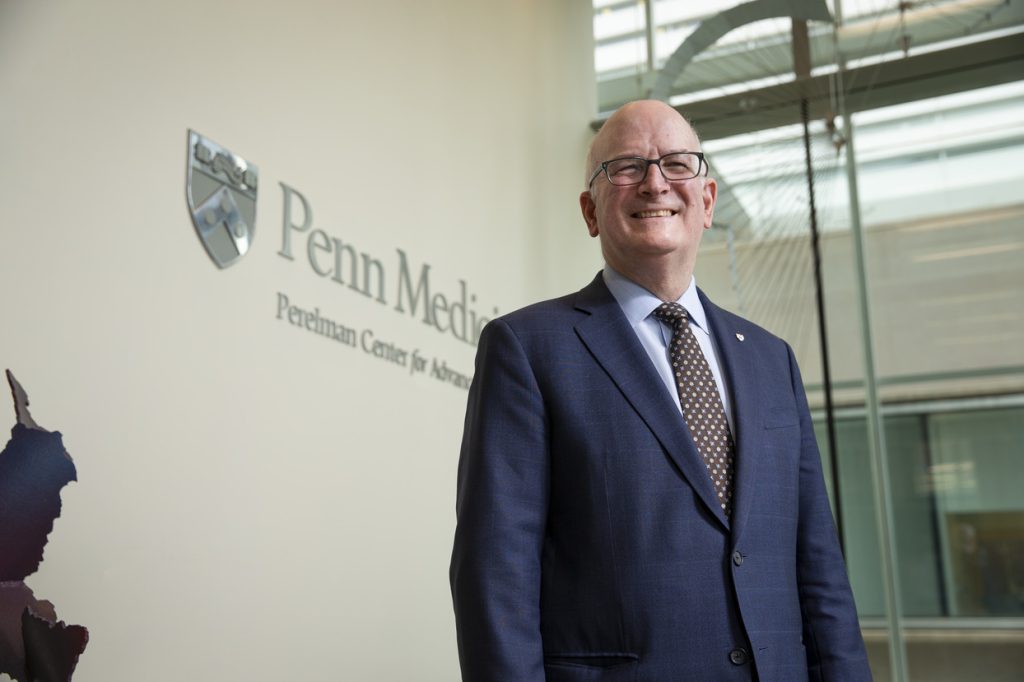 Photo by Joseph V. Labolito
Mahoney's career spans over 20 years at Penn Medicine, assuming multiple leadership posts before stepping into his role as Chief Executive Officer in June of 2019. He has led several transformative construction projects which have expanded and enhanced Penn Medicine's clinical care, teaching and research missions. Over the course of his career, and with help from his Temple education, he has formed a clear perspective on where the future of the industry should head.
For Mahoney, the future of healthcare is more equitable, less costly and more convenient. One way to do that is to create greater access to physical spaces that connect community residents to essential health services. Another is to increase access regardless of geographical location.
"The other thing that the pandemic taught us is that we have to be less hospital-centric," says Mahoney. "We need to rely on our home care agencies, on virtual care, more ambulatory care and continue to push things and deconstruct health care to the outpatient side."
Mahoney believes that Temple alumni are uniquely positioned to help drive this necessary change.
"I think the Fox education, and Temple in broad terms, made me and my colleagues ready to lead in healthcare because we learned and applied," he says. "We learned how to apply the knowledge from Fox to our jobs. We learned a lot of theory, but it was the application of that theory that made us better as leaders, as strategists and as accountants. I think one of the great things about my Fox education was the people that came before me. There's a tight network in Philadelphia of healthcare leaders that came through the Fox/Temple program, and I relied upon a network both for technical answers and to learn from their leadership styles by looking at their leadership skills. There's a lot you learn in the classroom. There's even more that you learn from the Temple network in Philadelphia of other healthcare leaders."
Leading the charge of digital transformation 
"I believe the future of the city of Philadelphia has everything to do with addressing the social determinants of health in our poorest communities. In Philadelphia, there is a stunning disparity in life expectancy depending on your zip code.  Meaningful collaboration among the major Philadelphia healthcare organizations along with the support of foundations and government can change the trajectory," says interim President and CEO of Thomas Jefferson University Hospital Richard Haverstick, BBA '74. 
Photo by Joseph V. Labolito
Haverstick is on the board of visitors for the Fox School, and he is the immediate past chair of the board of Thomas Jefferson University and Jefferson Health. In October 2021 the board of trustees appointed him interim president of Thomas Jefferson University and CEO of Jefferson Health effective Jan. 1, 2022, upon the retirement of president and CEO Dr. Stephen Klasko. Haverstick was asked by the board to lead during a period of turbulence caused by the CEO's retirement, the pandemic, headwinds in healthcare and two recent mergers.
"Obviously, the healthcare system and our courageous workers earned the community's highest accolades during the pandemic. Jefferson was pretty well-prepared with critical equipment and supplies and cared for the most COVID patients in the region," says Haverstick. "Healthcare operations and finances were severely disrupted during the pandemic. Today, we're laser-focused on the optimization of our clinical operations. Last fall, we merged with Einstein Health System and our teams are hard at work to integrate Einstein into the Jefferson family." 
Haverstick believes the vitality of Philadelphia is directly connected to the most underserved communities.
"At Jefferson, we're committed to community partnerships focused on education, nutrition, food supply and clinical services for the poor. As an example, this spring Jefferson and Temple will, together, open the Frazier Family Coalition for Stroke Education and Prevention in North Philadelphia."
When looking to the future, Haverstick feels this collaboration and technology working together will lead to individuals having the education and tools to better monitor their health. Staying actively involved in managing your health will be available through technology.
"The technological advancements that allow people to stay out of the hospital is where a lot of focus is right now—in Silicon Valley and through the digital transformation of the whole health care cycle," says Haverstick.
And as for how Temple alumni are capable of leading that charge of digital transformation, Haverstick asserts that education helps them be forward-thinking and agile.
"Until I became involved with Jefferson, I didn't know there were so many physicians and clinical leaders with MBA degrees," he says. "We have many Fox MBAs at Jeff. I'm sure many clinicians aspire to be practice leaders or senior executives in their companies. Understanding business is essential in their professional growth. Healthcare, like so many other sectors, has experienced significant consolidation which creates these very large and complex organizations."
He also believes that Temple graduates are especially well-situated to understand the needs of Philadelphians. 
"To this day, I relish my experience at Temple, and it's the reason I've been strongly connected to Temple for over four decades," Haverstick says. "There was clearly something about the environment and culture at Temple at that time that awakened me to the value of hard work, the importance of being curious and aware, having the courage to ask questions and understanding the power of relationships. I found my first mentor at Temple, Professor James Solano, and our relationship has been maintained to this day. I had such a richly textured educational and social experience at Temple. As I look back, Temple clearly set me on a career path greater than I could have ever hoped for in my youth.
About the Fox School of Business
The vision of Temple University's Fox School of Business is to transform student lives, develop leaders, and impact our local and global communities through excellence and innovation in education and research.
The Fox School's research institutes and centers as well as 300+ full- and part-time faculty provide access to market-leading technologies and foster a collaborative and creative learning environment that offers more than curriculum—it offers an experience. Coupled with its leading student services, the Fox School ensures that its graduates are fully prepared to enter the job market.
The flexibility and responsiveness of our knowledge-creating research faculty allow the school to address the needs of industry and generate courses and programs in emerging fields. As a leader in business research, the Fox School values interdisciplinary approaches and translational research that influence and impact real-world problems. Our research informs an adaptive curriculum, supports innovation in teaching and prepares students for the ever-changing business environment.