You've come up with a great business idea. But now you have to talk about it. Many entrepreneurs find it challenging to explain their business in a concise and engaging way. Having a business "elevator pitch" is essential to your success. Whether you're explaining your business to family and friends, potential partners, or investors, having a top-notch business pitch is a must!
What is a business pitch?
A business pitch is a short, impactful presentation that tells your audience what your business does, who your customers are, and summarizes your key accomplishments. Having a great pitch helps spark interest in your company, raise money from investors, and network with business partners. It's also a handy tool to answer the question, "so what does your company do?"
Your pitch should be tailored to your audience. Pitching to a partner is different from pitching to an investor.  A pitch can be presented verbally, in a written document or PowerPoint, or via a combination of the two.
What should you include in your pitch?
Most business pitches can be built using eight components. You may not need to include all eight for every audience, but it's best to prepare all eight sections so you have them when opportunity strikes. The eight components of a pitch include a problem worth solving, your solution to the problem, your target market, competitors, an introduction of you and your team, your business financials, how you plan to bring your product or service to market, and finally your ask, otherwise known as the reason why you're doing the pitch in the first place.
1. A problem worth solving
Introduce a problem your business can solve. Every business exists to address a problem their customers have. In your pitch, paint a vivid picture of a challenge people are facing.
2. Your solution to the problem
After explaining the problem, introduce your solution. This is where you want to talk about your business and describe how your product or service solves the problem.
3. Target market and industry
After you've gone over the problem and your solution, talk about your target market. Discuss the characteristics of your ideal customer, how many potential customers you might have, and ways to reach your target market.
You'll also want to give background information on the industry your business fits into. Note the trends you're seeing and how the industry is growing and changing.
4. Competitors
It's important to take notice of your competitors and provide a thorough analysis of them. Competitors can be businesses offering an identical product or service, an entirely different solution to the problem, or simply other companies competing for the same customer dollars.
5. You and your team
Once you've discussed your business, ideal customers, industry, and competitors, it's time to introduce yourself and your team. Talk about why you and your team are uniquely qualified to run the business. Mention key partners you'll rely on and note roles you plan to fill further down the line.
6. Financials
You may also need to include your business financials. This should include your costs, how you plan to generate income, your projected profits, and any financial needs you may have.
7. Bringing your product to market
If you're still in the beginning stages of your business, include how you plan to bring your product or service to market. You should have a timeline, important milestones, a marketing strategy, and how you'll distribute your product or service.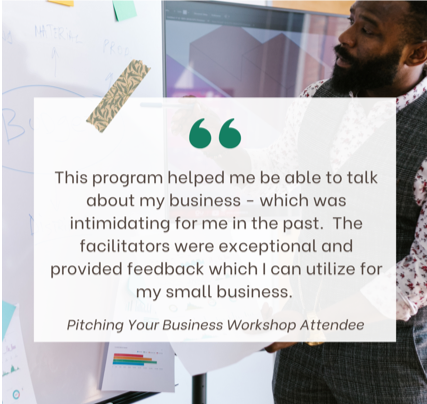 8. Your ask
Finally, you want to wrap your pitch up with an ask. You're pitching your business for a reason, so now is the time to address it.  Are you looking for an investment or hoping to secure a partnership? Maybe you're simply looking to showcase your business to potential customers. Whatever it is, the end of your pitch is where to do it.
Once all your sections are done, you can choose what to include and what to omit from your pitch depending on your audience. Most importantly, make sure you're clear and concise. And of course, practice, practice, practice!
Want to learn how to create the perfect pitch?  Join us for a two-part no-cost workshop to hone your business idea and create your own Pitch Deck! This is a great first step to developing your business plan. Please note, that attendees should register for BOTH sessions. Register now!