Conducting research may not be at the forefront of many undergraduate business students' minds, but that is not the case for one junior at the Fox School. 
On Tuesday, April 5, Temple University hosted its Symposium for Undergraduate Research and Creativity. The symposium gave undergraduates from any Temple school or college the opportunity to present their own original research on a competitive stage. 
This year, Eve Matthew, Class of 2023, was the only Fox School student accepted into the symposium out of 150 applicants. She presented her research on Making Ads Stick: Role of Metaphors in Improving Advertising Effectiveness, which focused on the effects different types of advertisements have on consumers. 
"My research goal dealt with understanding the relationship between the kinds of ads people see—either emotional, metaphorical or functional—and how they remember and are influenced by them," Matthew explains. 
Matthew's interest in research originally peaked when she participated in an in-person study at the Fox School's Center for Applied Research in Decision Making (CARD) as a freshman in 2020. A marketing major, Matthew ultimately joined CARD as a research assistant and helped with studies measuring how different ads can persuade and be recalled by consumers. This research had initially been started by Liz Beard, a graduate student at the CARD lab, who played a large part in directing Matthew throughout the process. 
"One big thing about research that I have learned is that everything builds off of each other," says Matthew.
Matthew found that the initial stages of research were challenging as every step built off of the last. If one step was done incorrectly, the entire process would be stopped or delayed. Every phase of her research required careful thought and attention, specifically choosing which picture ads would be shown to participants. 
"We used a (recruitment) pool specific to Fox kids so everybody that comes in is a business student, typically participating for class credit," Matthew explains. Participants were shown picture ads and asked to rate them based on their likelihood to purchase or recommend the brand as well as how much they liked the ad. They were also asked to recall specific details about the ads they were shown in order to see what kind of impact the ad made, if any.  
"One of the most difficult things I encountered with the study was being sure that this is exactly the question I wanted to ask and whether this is the picture that helps me ask that question,"  says Matthew. 
With help from fellow research assistants, Fox School undergraduate students Amanda Yu and Christina Holgado, she created a pre-test to ensure that everything was reading properly. From there, Matthew and her team were able to see what needed to be eliminated or changed before their final test.  
"Our preliminary findings showed that different ad types were rated differently in terms of how well people thought they remembered the ad and how persuasive they found the ad to be. Functional ads were good at driving purchase behavior and making people buy the product afterward, but metaphorical brands were better at getting people to remember what they saw in the ad in the first place. These findings still need to be peer-reviewed, but this kind of information can be valuable to advertisers in the industry," explains Matthew.
Once her research was complete, Matthew was ready to apply to the undergraduate research symposium. Throughout the project, she was able to expand her knowledge surrounding the context of research and the scientific method. Specifically, she learned more about reading coding, creating graphs, editing scientific research and reframing research to make it easy for a general audience to understand.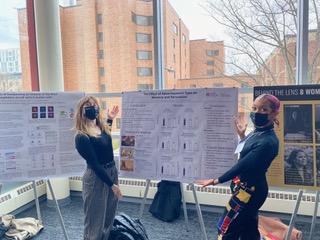 Eve Matthew (right) presents her research
"When it comes to the scientific method, 90% of research is about revising the way you frame things," says Matthew. One of the best pieces of advice she received from her mentors from CARD was to create a story with the data as a way to reframe the research for the regular person to understand.   
Vinod Venkatraman, associate professor of marketing and director of CARD, says that undergraduate business students are not often exposed to career opportunities in research. The Fox School is actively working to introduce business students to research opportunities through mentorships, independent studies and programs like the Fox Undergraduate Research Leadership Program. 
"In addition to learning how to carry out research, it is also important to present and share research findings with other members. This is where opportunities like the undergraduate symposium are valuable," says Venkatraman. 
"The symposium provided Eve an opportunity to share her findings with other researchers and receive valuable feedback, which she can then incorporate into future research on this topic," Venkatraman continues. "It also gave Eve the confidence to present her findings in more national and international conferences in the future."
Matthew's best advice for future applicants is to choose a mentor that supports their project and  whom they can have close communication with even on the day of the event. For Matthew, the outcomes of the symposium have been incredibly beneficial to her future career development. 
"Post-symposium, I have been able to use the discussions I had with passersby as fuel for future directions in my research, which is great," Matthew says. "It also made me feel more confident in my work after having so much practice presenting it." 
Learn more about Temple's Symposium for Undergraduate Research and Creativity. 
Learn more about the Fox Undergraduate Research Leadership Program.