When Nelson Warley and Ben Knepler founded True Places, a new brand of products and accessories for the modern outdoors, they anticipated a wide range of challenges involved with getting a consumer business off the ground. However, they didn't build a global pandemic into their business plan. SBDC consultant John Ondik has helped True Places navigate both expected and unforeseen challenges and opportunities to successfully launch the startup.
 Warley and Knepler previously worked together in the innovation group at Campbell Soup Company. Upon reconnecting in 2019, they discovered they both had similar thoughts about starting a new business. They realized that they were spending a huge amount of their free time outside; not necessarily in the great outdoors, but frequently in situations they started to call just outside your door – kids' sports games, block parties, concerts in the park, or just hanging out in the yard with neighbors. "These are all really meaningful moments we spend with family and friends, but the things we use and take with us don't usually match the quality of those experiences," explains Warley. In particular, people are sitting for hours in these occasions in low-quality, uncomfortable camping chairs. This literal pain point and associated insights led True Places to develop their first product: a modern folding chair providing true comfort, portability, and style, called the Emmett.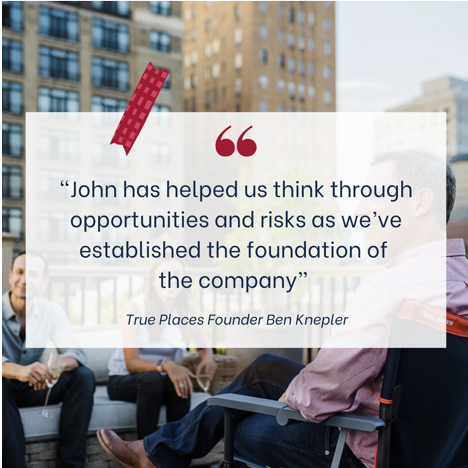 True Places was introduced to John Ondik through the Wharton VIP-Xa startup accelerator as they worked through industrial design, engineering, and setting up their supply chain, as well as broader business planning. They have continued to meet with Ondik at Temple SBDC. "Starting a modern physical consumer products business from scratch is hard," says Knepler. "John has helped us think through opportunities and risks as we've established the foundation of the company."
Nelson and Ben's backgrounds in brand management, ­­­strategic marketing, and consulting helped them work through initial consumer and market research. With Ondik's guidance, True Places was able to secure pre-seed funding, gain over $170,000 in pre-sales and launch into market at the end of 2021.
True Places has been featured in numerous top-tier publications, including Architectural Digest, Rolling Stone, Men's Journal, and Apartment Therapy. With more and more people placing ever greater value in these moments that are outdoors but close by, True Places believes that there is an opportunity to build a brand to better connect with this significant aspect of people's lives.