2016 event where Arendt met former President Barack Obama
Traveling around the world and living in foreign countries are just some of the perks of working as a U.S. diplomat. For Alicia Arendt, BBA '08, her passion for travel and business management led her to the U.S Embassy in Bucharest, Romania. 
Since 2008, Arendt has served at the U.S. Department of State. She began her career domestically at the Boston Passport Agency and the Bureau of Budget and Planning in Washington, D.C. She has also served in consular and management sections internationally at the U.S. embassies in Honduras, Peru, Barbados and Turkey. 
"During my time at Temple, I attended a job fair where the U.S. Department of State was in attendance to recruit students," says Arendt. "Originally, I was looking at working in the private sector. Once I learned that I could pursue my passion by working for the federal government, my interest in working in the public sector was immediately sparked."
Her desire to work internationally was born during her experiences studying abroad at Temple University Rome and Instituto Tecnológico Autónomo de México as an undergraduate student at the Fox School. She also shared fond memories of participating in Temple's Latin American Studies Semester, which included a two-week immersive experience in Merida, Mexico. Later on, she studied international economics in Ethiopia while pursuing her executive master's of public management degree at the University of Maryland. 
"My time at the Fox School (studying international business) and studying abroad really gave me a broad foundation for entering the workforce and helped me establish my career as a management officer in the U.S. Foreign Service," says Arendt. "Working as a U.S. diplomat is really unique because I am not only working overseas with my American colleagues in different embassies and changing environments, but I am also working with the local population in my host country. Through these experiences, I have learned to manage and work with a variety of people from all different backgrounds and cultures."
She highlighted how some of the most rewarding parts about being a diplomat and working for the public sector is that you are working for something that is much bigger than yourself. You are also part of a system helping to resolve global issues that are much greater than just the United States.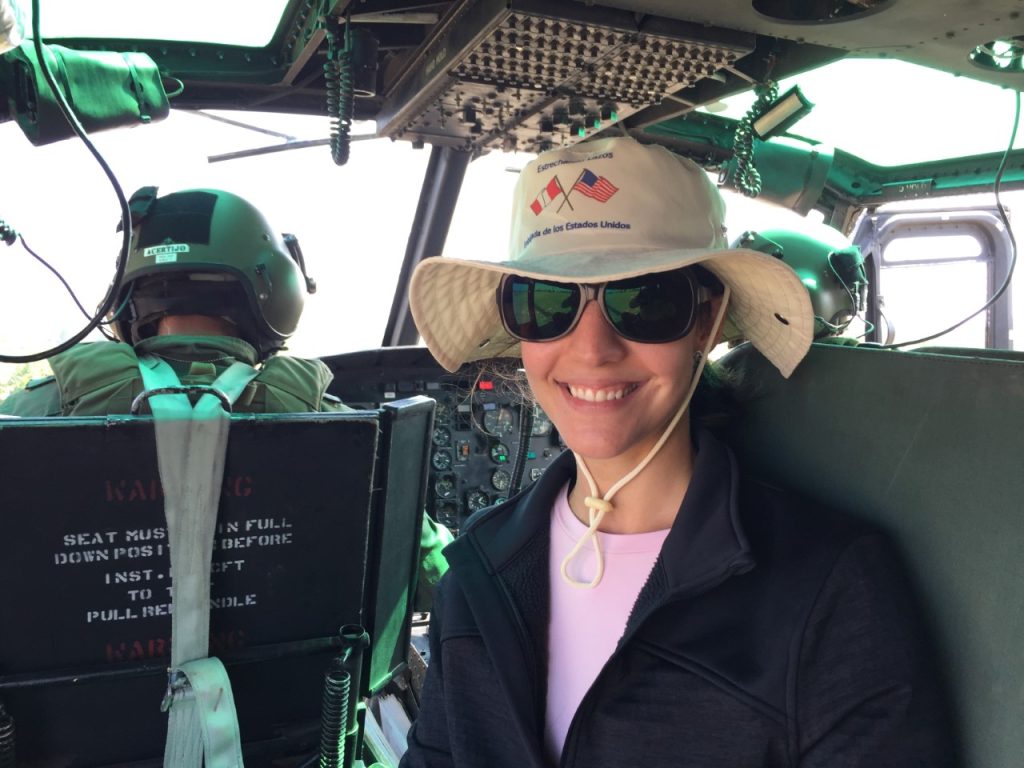 Arendt in a helicopter with the US-supported Peruvian military flying over the Amazon and inspecting the coca fields.
"It is amazing to be able to represent my country overseas," says Arendt. "I have been fortunate enough to have a wealth of unmatched experiences such as: assisted Peace Corps volunteers to evacuate from Peru when a natural disaster struck, supported multilateral conferences that high profile politicians like former President Barack Obama and former Vice President Mike Pence have attended, and assisted Americans to return to the U.S. at the beginning of the COVID-19 pandemic"
Working in a U.S. embassy is very exciting, but it can also be very challenging. Moving to a new country every few years requires starting over, over and over again. You need to be extremely adaptable and open to always learning. Maintaining ties at home can be challenging when you're in different corners of the world. To make sure she stays connected, she pays extra attention to what is happening at home, in addition to being present in her current life overseas. 
The pandemic has also caused great uncertainty in many situations due to rules and protocols constantly changing in Europe, like much of the world. 
Usually, part of working at an embassy is immersing yourself with locals and having local experiences. "Adapting to new countries and different places has become more difficult due to the pandemic. I have had a unique experience in Romania because I have not been able to interact with the local community as much due to COVID-19," says Arendt.  
Through her years as a diplomat, and especially recently, Arendt has learned the importance of leading her staff members in a compassionate way and remaining cognizant of how to explain procedures or direct projects. Adapting your communication styles is crucial while living in different countries because the people around you come from different cultures and backgrounds. 
"While our assignments can be directed based on the needs of the service, I was able to choose Romania for this assignment. I was interested in exploring a new region of Europe that I haven't traveled to before. My time here has been very different and fascinating," says Arendt. "Ultimately, working in public service and being a U.S diplomat is such a cool career because it's absolutely full of adventures. You are always learning about new people, countries and cultures. You never stop learning and growing"