If COVID-19 has taught us anything, it is that sometimes the smallest joys create the greatest impact. One silver lining of spending extra time at home was the ability to discover new passions or hobbies, some resulting in individuals founding their own businesses.
There has been an upward trend in new businesses starting early in the pandemic and has continued since the start of 2021. Nearly a half a million new businesses started in January alone, according to the U.S. Census Bureau. 
Some students in the Fox School spotted an opportunity to take their hobbies and knowledge to the next level by successfully starting their own businesses. 
Baking the world a better place 
Over the course of the 2020 quarantine, Class of 2023 business management major Torri Burrell took her hobby of baking to a new level by creating her business K'Tor Kreations. 
Burrell has loved baking since age 12, when she would make simple cakes for family gatherings. Three years ago, she was inspired to master the art of cake making and decorating and started to watch YouTube videos to learn new and easier techniques. 
"Quarantine provided me with the time to research and watch other individuals bake cakes on YouTube and social media sites like Instagram to help me perfect the craft," says Burrell. "I have even become friends with some of the other bakers I have met through Instagram. This has helped me grow both my network and my knowledge." 
Burrell expanded her business from just making cakes to now offering themed treat boxes, balloon garlands, room décor and event packages for all special occasions, including weddings and baby showers. She attributes the growth of her business to social media because that is where she generates the majority of her sales. 
"Social media has helped me grow my online presence and grow my exposure to the public. Now that my business has grown, I would like to start selling my cakes out of a food truck," says Burrell. "Currently, most of my sales are from people messaging me on social media, but having a food truck would allow me to be mobile and sell my cakes to more locations."
Burrel emphasized how a lot of people have been willing to help guide and support her through the business process. She also had found inspiration from the Fox School and fellow Temple entrepreneurs who shared their successes and experiences during seminars or workshops. 
Treat your furry friends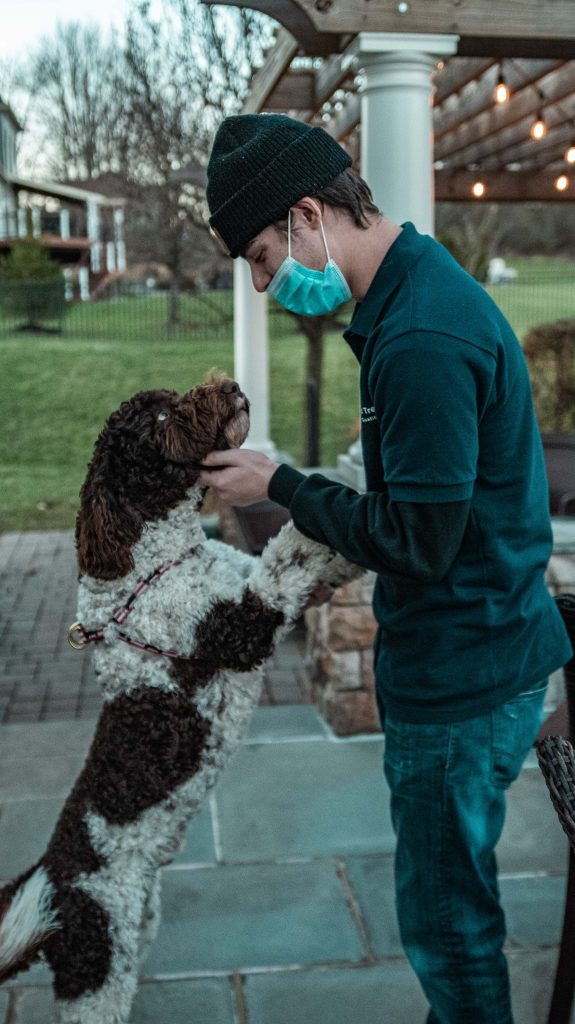 Like Burrell, brothers Kaleb and Kolby Rush also decided to create their own real-world experiences. Risk management major Kaleb, Class of 2023, and his brother Kolby, who recently graduated from Pennsylvania State University, combined their knowledge and interests to start Saint Rocco's Treats. 
Ensuring that pets have access to top-quality food has been part of the Rush family for generations. Both their father and grandfather worked in the meat and dog treat manufacturing industry, inspiring the brothers to create their own unique recipes. 
"Not only is it important for Saint Rocco's Treats to provide a treat that leaves our furry friends drooling, but we also believe every dog owner should understand and recognize the many positive benefits that come with feeding their dog high-quality snacks," says Kaleb. "These impacts include higher energy levels, no digestive issues and finally having treats that motivate even the pickiest eaters! Nothing better than a waggin' tail."
Through running their own company, the Rush brothers have gained an immense amount of business experience. They learned everything from e-commerce, finances, marketing, supply chain and a long list of others. Owning their own business also has helped teach them how to overcome obstacles like determining the correct recipe mix, managing inventory and testing packaging to ensure the treats remain fresh for the two-month shelf life. 
Saint Rocco's Treats will continue to grow with the support of the Temple community. Kaleb connected with Temple's Innovation and Entrepreneurship Institute (IEI), Entrepreneurship Student Association and Professional Sales Organization—all of which provided an enriching platform of mentors, courses and resources to bring Saint Rocco's Treats to the next development stage.
Their commitment towards taking care of dogs of all breeds doesn't stop at selling treats. The brothers donate one dollar for every one pound of treats sold. They have donated to a local dog rescue Phoenix Assistance Dogs (PAD) in Reading, Penn. 
 "The best feeling is seeing the satisfaction and love that our furry friends have for the treats we provide," says Kaleb. 
Despite the hardships that COVID brought, these students took the circumstances of the pandemic to their advantage by successfully jump-starting their own businesses. As young entrepreneurs, they have shown resilience and perseverance that will lead them into a bright future.