Mike Purcell founded All Canines, a full-service dog training and boarding business based in Roxborough, Philadelphia in 2020, after unexpected success with a small side gig occasionally walking neighborhood dogs. Purcell had no intentions of leaving his data analyst position with the Department of Defense to run a dog training business full-time. Local families and their dogs had other plans.
Purcell began walking dogs in 2019. A life-long animal lover, he'd hoped to have a little extra income to help him pay off student loans. Clients started streaming in, taking him from $200 a month to $2000. He educated himself about dog training when he got his boxer Chutley. He began applying his knowledge to the dogs he saw every day. Lacking formal training, he took a si -week training course. Following that course, he enrolled in the CATCH Canine Training program, a year and a half long program that ultimately resulted in him becoming a Certified Dog Trainer, the national gold standard for training certifications. When COVID hit in early 2020, many people became first-time dog owners. There were a lot of new owners with no experience in how to train them. Purcell saw a market opportunity and formally added training to his repertoire. In the summer of 2020, he launched All Canines. He came to the SBDC for assistance and guidance formalizing his business. We also worked with him on his business model. By the end of 2020, he was connecting with owners serious about training their dogs and began meaningfully building his training business.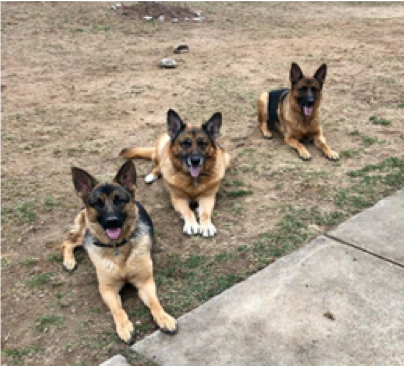 All Canines is veteran-owned. After an unsuccessful stint at Penn State, Purcell knew he needed to switch focus and enlisted in the Air Force. He served from 2009 to 2013 as a mechanic. During that time, he was deployed twice to the Middle East. At the end of his tenure, he was a senior airman. While serving, he earned his bachelor's in Criminal Justice. He went on to earn a Master's in Sports Management and later an MBA. Most recently he worked at the Department of Defense as a data analyst. While steady and important work, it wasn't something he could imagine doing for the rest of his working years. The early success of All Canines, his innate skills, and his commitment to business and dogs have allowed him to leave his position and make All Canines his full-time job. Long-term, Purcell wants to work more with dogs with serious behavioral issues. He wants to have additional trainers that can work with the more typical dogs so he can focus his energy on the most challenging cases.
Interested in working one-on-one with an SBDC consultant to make your business dreams a reality? Sign up now.