Exton campus
The CEO of United Safety and Survivability Corporation believes a career opportunity for business school graduates is being overlooked.
"I come across people who may not have thought about manufacturing as a career," Joe Mirabile, JD/MBA '09, LLM '11, says. "When I talk to Temple students or other students, manufacturing is not something they have ever really thought was interesting or that they could be involved in. 
"But when they hear our story about the positive impact our company has on the lives of our customers, it resonates with them."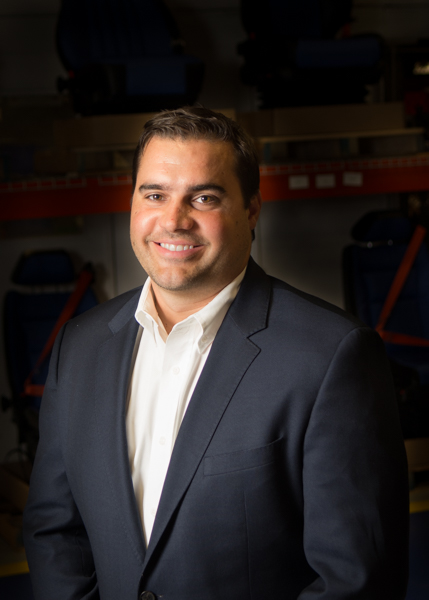 Joe Mirabile,
JD/MBA '09, LLM '11
The Exton, Pa. manufacturing business has grown from what began as a garage startup in 1984 to an innovative, globally expanding company that now employs more than 1,000 workers.
Whether it's producing blast-proof seating for the military that would absorb the impact of roadside bombs and prevent catastrophic injury or delivering a unique seat harness and safety system to prevent injury to the EMTs trying to save a life in the back of a quickly moving ambulance, United Safety's work across a variety of businesses is driven by purpose.
"We really approach all of our new products and development thinking about how we can really improve the quality of life of the people who are our customers or how we can prevent them from being injured in their jobs," Mirabile says. 
He believes that line of thinking can be intriguing to new graduates exploring their career options.
Mirabile's career path roots run deep at Temple University. As part of his coursework for his dual MBA/JD degree from the Fox School and the Beasley School of Law, Mirabile enrolled in the MBA capstone course with Fox Management Consulting (FMC).
The experiential learning course requires a team of students, led by a Fox faculty member, an experienced project executive and several subject matter experts, to complete a consulting project for a client looking to move their business forward.
"I had finished a great project prior to graduation that went really well for the client," Mirabile says of his FMC experience. "After I graduated, I was asked to come back to help another FMC team on a project."
The client happened to be the founder and owner of the company Mirabile now leads.
"Through the project, I got to know the company really well," he says. "I went on to consult with the company and help them with some projects they were working on."
Eventually, Mirabile went to work for PwC in mergers and acquisitions. 
"But I stayed in touch with the founder and continued to watch the company grow," he says. 
An opportunity arose and Mirabile left PwC to join what is now United Safety as the director of business development and the company's general counsel.
"It was the entrepreneurial spirit, the team, the people that really attracted me to the business," Mirabile says.
Mirabile continues to stay involved with the Fox School by participating in industry panel discussions and collaborating with faculty on research into innovation. He recently connected again with Fox, this time as a client seeking FMC's consulting services. 
United Safety not only came away with strategies for acquisition and expansion but added to its workforce through hiring some of the MBA students who worked on the team.
"We are growing our business with great talent from this area," he says. "So when we think about opportunities for people who are graduating school or who are growing in their roles wherever they are, a company like ours could be a good fit."
Learn more: Have an innovative culture in place before a crisis strikes.