The job market is heating up, with the number of people quitting their jobs for other opportunities and better pay surging to record highs, according to the U.S. Bureau of Labor Statistics. 
In the face of a competitive job market, two recent graduates of the Master in Management (MiM) program landed their dream jobs. Since starting the program just over one year ago and graduating this past summer, Kristen Buckley, CLA '20, MS '21, and Cameron Walker, KLN '18, MS '21, turned their passions into professions by leveraging their new graduate business degrees and undergraduate backgrounds in neuroscience and communications, respectively. 
Get to know how critical thinking skills from their non-business majors and business experience from their master's degrees helped Walker and Buckley stand out from the competition.
Kristen Buckley, CLA '20, MS '21
Insights Analyst, Spherix Global Insights
Undergraduate degree: Bachelor of Science, Neuroscience
Buckley's biggest passion has always been science. She started the MiM program with the aspiration to make her undergraduate degree in neuroscience more valuable by supplementing her background with business skills, and she was able to achieve exactly that. 
"Gaining business skills with my science background helped me stand out and get my current job," says Buckley. She earned a position at Spherix Global Insights as an insights analyst–a role she describes as the "perfect combination of science and business" with market research responsibilities ranging from talking to physicians to analyzing data. 
Buckley's biggest takeaway from the program was learning to be more adaptive and agile in a business environment. Through her courses and capstone class with a live client, she gained the confidence to talk to people in various positions and at different levels in a business environment.
"Coming from a pure science background, I learned less how to talk and more how to write papers and research articles," says Buckley. "The Master in Management program helped me learn how to talk effectively with people. I was a lot more confident starting my new job than I would have been without a business master's degree."
Buckley attributes her success in the program to the immersive experience the Fox School offers students to prepare them to excel in the world of business. "Everyone was involved in my education and success. Our advisors supported us in staying on top of our schedules, credits and coursework. The Center for Student Professional Development gave specific and helpful feedback on my resume. So many people helped us get involved," says Buckley.
"I'm really grateful I applied for and started the program; I was nervous in the beginning because I had no business experience, but I got that and so much more," says Buckley.
Cameron Walker, KLN '18, MS '21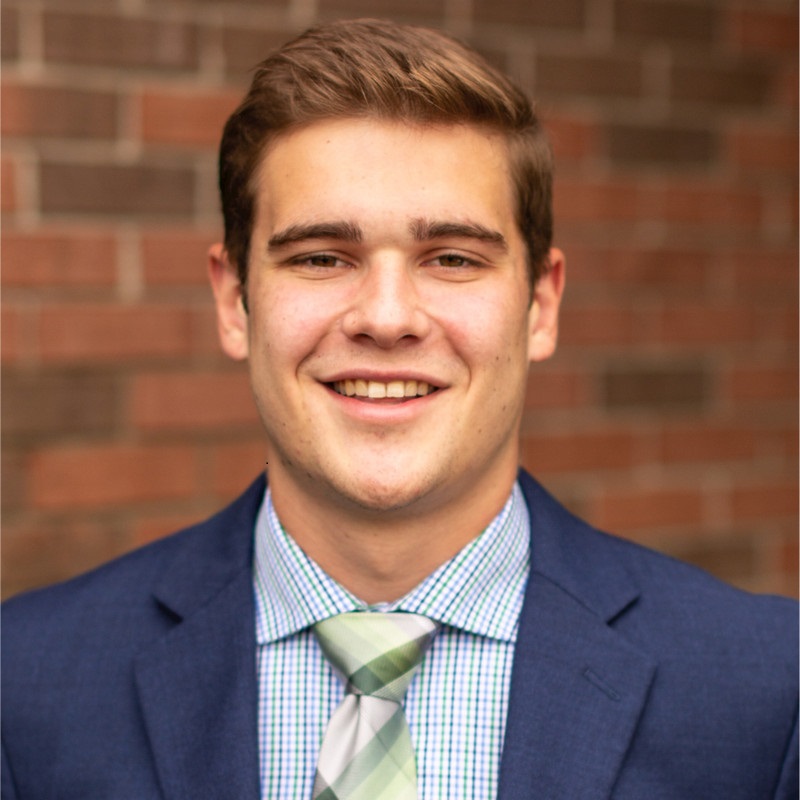 Operations Transformation Associate, Grant Thornton
Undergraduate Degree: Bachelor of Arts, Communication
Right after graduating, Walker earned a position as an operations transformation associate at Grant Thornton—a dream job he knew he was prepared to excel in with the skills he learned from his MiM degree. 
"The job is really what I wanted to be doing after getting my degree," says Walker. "The more I learn about my responsibilities and expectations, the more excited I get because it really is what I was looking for after graduation."
Having diversity in his educational experiences helped to set him apart from other candidates, Cameron believes, because a big part of his role in advisory services for the firm is client-facing. His critical thinking and persuasion skills from his Klein undergraduate degree in communication support him in articulating ideas and writing reports while his Fox graduate degree gave him the ability to think outside the box and provide tangible solutions to improve a business.
"The foundational business understanding I got from my Master in Management degree is even more meaningful and useful with the critical thinking skills I got from my undergraduate degree in communications," says Walker.
The MiM program's capstone class with a live client was one of the most valuable experiences for Walker. His team took the skills they learned in the classroom to the real world and put together a strategic plan and financial model with business solutions for a public sector client.
"The opportunity to work with a live client from an outside organization was invaluable," says Walker. "The more I work through some of the issues our clients face, the better understanding I have of how much I learned in capstone that is helping me serve my clients."
To any students from a non-business background looking to gain a competitive edge with a MiM degree, Walker advises, "Furthering your education is one of the best investments you can make. You get to network and the degree looks good on your resume, but most important is the experience you get and then the opportunity to speak about that experience."