Etsy is a global marketplace where artists and crafters sell handmade and vintage products. From art to soap to snuggly blankets, you can find all things unique and giftable on Etsy. There are more than four million sellers on the site, so competition can be fierce. How can you stand out from the crowd and succeed on this wonderfully unique marketplace?
Choose a name and set up shop
Before you can start selling, you must open your shop. What you name your shop is completely up to you, but there are some best practices to keep in mind. Etsy is a global marketplace, so you should consider both the spelling and meaning of words in different countries. Your shop name should resonate with audiences in the US and abroad. You also want to avoid difficult-to-spell names. You want potential customers to be able to find you easily, so choose a name no one would have a hard time spelling.
Before you open your shop, you should familiarize yourself with Etsy's fees and payment policy. There are listing and transaction fees, which are required, and advertising and promotional fees, which you can opt-in to. Knowing the costs associated with hosting your products on Etsy will help you decide your pricing.
Brand your business effectively
You want to create a brand that is unique to your business. Think about the type of person you want to buy your products. Not everyone is your customer, so really drill down into who you want to target. Once you know who you're targeting, you'll be able to make decisions about what items to stock, what prices to charge, and where to focus your marketing.
Build your brand with your target market in mind. Choose colors and fonts that align with your shop's products and values. Once you choose a color theme and font, stay consistent. You want customers to be able to differentiate your brand from others. Your logo should be simple and fit with the rest of your branding and products.
Take photos that showcase your products
The quality of your photography is critical to the success of your Etsy shop. You want a product photo that grabs potential customers' attention and is an honest look at the item. Photos should look professional and help buyers imagine the product in their own lives.
Good lighting and clear product styling are essential for capturing great product photos. Whether you use natural lighting or items like lightboxes and diffusers is up to you, but well-lit photos make all the difference. Most importantly, your photos should always align with your brand.
Make sure your products are found
Etsy's search function is where potential customers find you, so where you rank in those search results greatly affects your sales. You can make your product listings rank higher by using an effective keyword strategy. Keywords can be added in listing titles, tags, categories, and attributes. When creating a listing, try to think about how your customer thinks. How might they search for your product?
A strong keyword strategy is only part of the puzzle. You also need a high-quality listing to rank well. Excellent photography, strong branding, and good reviews will all help you rank higher in Etsy search results.
If you have unique products you want the world to see, opening an Etsy shop is an exciting opportunity. Using these tried and tested strategies is a great place to start when opening your shop.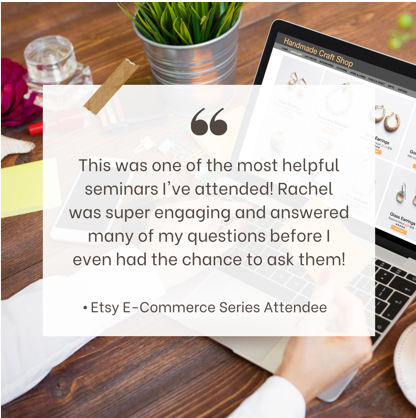 Want to take a deep dive into the world of Etsy? Join us for our Etsy E-Commerce Series this October. The series will teach you the strategies you need to know to succeed on Etsy. The four-part series is taught by Rachel, owner of The Dorothy Days, a successful Etsy shop she runs alongside her husband Jamie, all while they both juggle parenthood! She is an active member of the Etsy community and has been immersed in the platform for many years. She's done everything, including running an Etsy team, being part of Etsy's seller advisory board, and putting on events with the sellers from the site. She loves being able to share her knowledge with other makers and sellers to help them launch and/or improve their shops.