Many college students take their first year to acclimate to their surroundings and adjust to new levels of curricula. Instead, Rhea Kumar, Fox Honors student and a double major in Supply Chain Management and Management Information Systems, found one of the highest academic peaks she could summit.
As a mountain climber in her spare time, Kumar capped off her freshman year at the Fox School by winning one of the largest business case competitions in the world.
Kumar and her case partner Hannah Liu, also a rising sophomore Fox Honors Business Administration and Finance major and Healthcare Management minor, competed against 150 teams from across the world at the Global Case Competition at Harvard.
The teams were tasked with evaluating Advanced Micro Devices (AMD), a multinational semiconductor company, and Nvidia, a multinational technology company. Over the course of three weeks, the students had to decide whether a merger was feasible based on their research. Each team was then tasked with preparing and submitting a slide deck of no more than 100 slides demonstrating their findings.
"I had no prior background or experiences in Mergers and Acquisitions (M&A) before my case partner Hannah brought the idea of competing in the case competition to me," says Kumar. "In order to gain more information, we reached out externally to people in the industry asking where to start."
During the competition, the students performed tasks such as industry analysis, company analysis, financial analysis and valuation. The top ten teams in the competition were then invited to pitch their solutions to a panel of judges, which included distinguished Investment Banking (IB) executives and Harvard Business School professors.
Kumar and Liu's slide deck was placed in the top ten, advancing them to the next level of the competition where they were challenged with condensing their presentation to ten slides and participating in a 25-minute question-and-answer session.
"A week after we presented, we got a notification that we had won the competition," says Kumar. "I thought to myself, 'How incredible it was that two freshman female business students won this international competition, beating out primarily male masters and MBA students.'"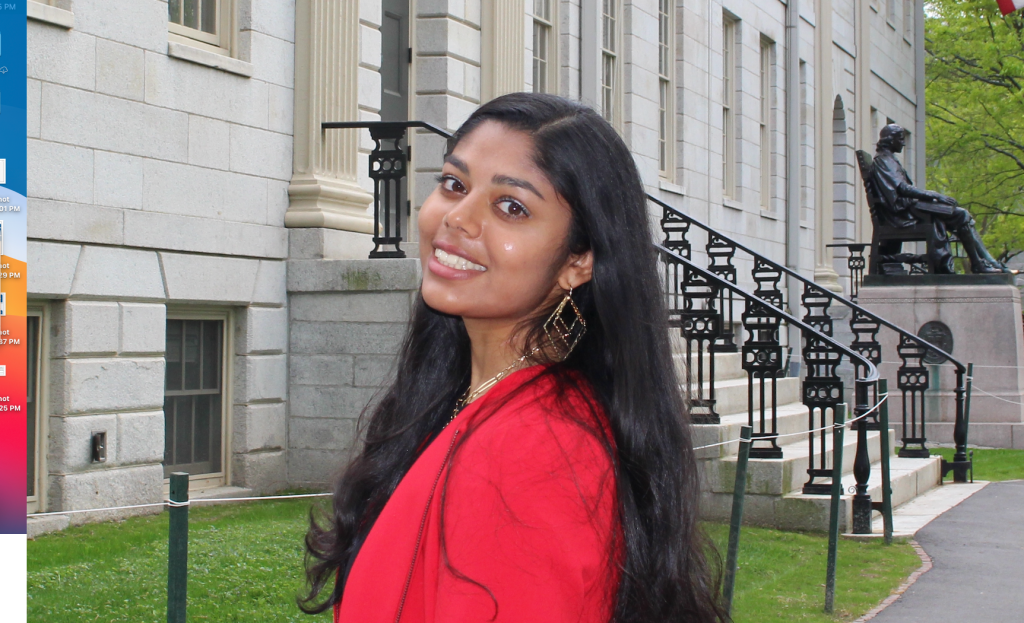 Kumar and Liu were awarded $10,000 as a team, as well as access to the Harvard GSAS Business Club (HGBC) Mini-MBA program where they participated in a five-week accelerated business course that introduced material that MBA students encounter in their first year of business school.
Winning the case competition opened up numerous internship opportunities for Kumar. She received internship offers from Amazon, PricewaterhouseCoopers (PwC) and Lockheed Martin.
Kumar decided to accept a summer internship with Lockheed Martin, working in their global supply chain operations office (GSCO).
"With choosing which internship I would like to accept, it came down to the feasibility, how concrete they were in their work, and if I could see myself doing the work in the future. My great experience this summer has led me to extend my internship into the school year," says Kumar. "I am also looking to accept an internship with PwC for next summer where I can gain more experience within a different company."
Kumar found great success in academia at such a young age, but she also has big aspirations on the horizon. As an avid hiker, she has a goal of climbing the seven summits of the world, which are the highest peaks of the seven continents. Her latest adventures are featured on her Instagram page the.avid.adventurer.
"Some of my biggest accomplishments have been summiting Mount Kilimanjaro and climbing to Mount Everest Base Camp," says Kumar. "I have also taken a bunch of hiking trips across the world including Patagonia. I am hoping to travel to South America soon to climb mountains in the Andes."
Kumar attributes many of the successes she saw this academic year to the welcoming and unique community that Temple and the Fox School offer.
"The Fox School and Honors program is a tight-knit community that truly puts a spotlight on each student. The students and staff have had a great impact on my time in college so far, and I look forward to my remaining years here," says Kumar.