How can you get the benefits of a fully immersive overseas trip, minus the jetlag?
This may sound like a riddle, but with the Fox Without Borders program or the Fox Undergraduate Virtual Immersions Courses, it is a real possibility. This past spring, these programs offered their second semester of virtual immersion opportunities for students to travel to faraway destinations—no passport or plane ride required. 
A virtual tour through a museum in Cairo
Associate Directors of International Programs, Amy Kumpf and Jessica Wassel, guided the program's evolution over the two semesters since the program model was created in summer 2020.
 "After the completion of the pilot program this past fall, interest levels among current students and alumni grew as they were given a direct idea of what the program would look like and the great benefits it has," says Kumpf. "As staff generated more feedback, we were able to create a 'study away experience' that was comparable to being in person in those countries."
This spring, alumni and graduate students were given the opportunity to earn a Global Business Professional Certificate from four-week virtual immersions to Indonesia and Kenya. Undergraduate students earned course credits from seven-week virtual immersions to Egypt and Turkey.
Jim Wilkinson, BBA '78, emphasized how he was pleased that this experience was open to Temple alumni. 
"I found this program extremely rewarding as someone who has great interest in international relations, international business and a desire to learn about various cultures," says Wilkinson. "By focusing on one country at a time, it allowed those who participated to gain a solid understanding of what they were studying."
Participants were able to learn key business concepts such as marketing strategy development and sustainable business practices, how to adapt to a country's environment and interact with executives at international organizations, all while enjoying virtual sightseeing excursions and cultural experiences.
"The sessions were taught by faculty members who have worked, lived or done business in these countries, which gave students firsthand knowledge," says Kumpf. "We also invited speakers who were able to give a really immersive and in-depth experience that only comes from a person who has expertise in that field or division."
Kumpf noted that the team deliberately created programs to give students an in-person feel by inviting them to enjoy a cultural activity relevant to the destination, such as food or drink tastings, cooking classes, virtual tours, or music, dance or art experience.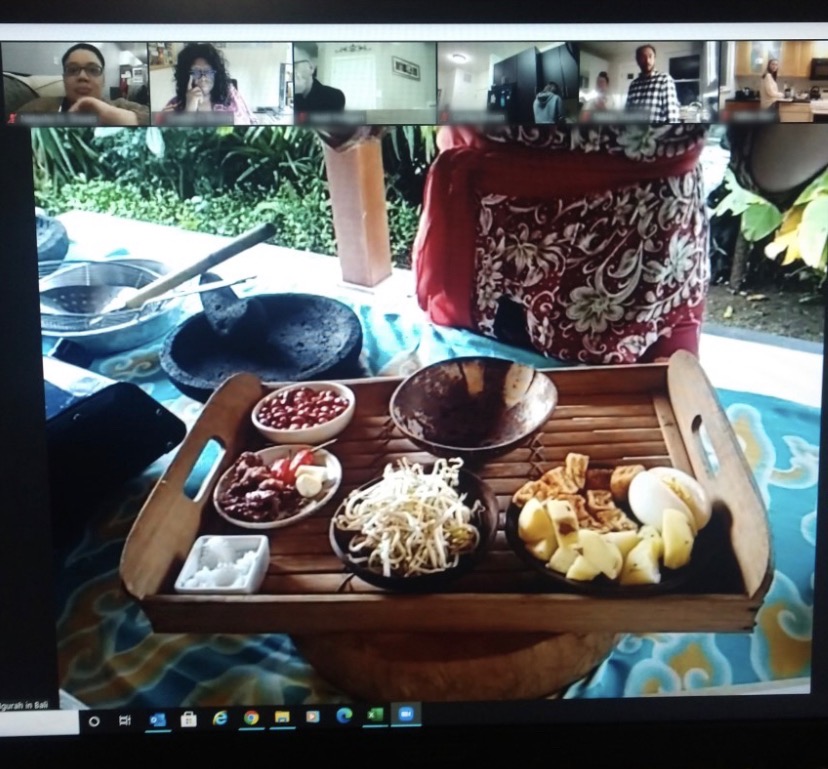 "A lot of soft skills happen outside of the classroom or business world when individuals travel, and by creating those cultural experiences, we were able to fill the gap between virtual and in-person learning," says Kumpf. "For instance, in the fourth week of the program, students studying Indonesia did a virtual tour of a farm in Bali and a team demonstration."
In addition to gaining hands-on cultural knowledge, students learned how to connect with people from all different cultural backgrounds. Hearing about professional, cultural and social experiences from alumni and industry experts who have lived or are currently living in the host country has taught students to accept different perspectives. These valuable skills will help them in their future professional field of work. 
The success of Fox Without Borders and Undergraduate Virtual Immersions has ultimately led Kumpf and participants like Wilkinson to advocate for the continuation of the program even when travel restrictions are lifted. 
"Though travel may come back in the future, it is important to keep these virtual options open because they are able to capture students that want an international experience who may not be able to physically travel somewhere," says Kumpf. 
This summer, students are participating in a virtual graduate program to Israel where they will be focusing on innovation and startup companies. In the upcoming fall semester there will also be an undergraduate program to Argentina, as well as another opportunity for graduate students and alumni. 
To learn more, see dates for the next destination country and register for a virtual immersion at fox.temple.edu/foxwithoutborders.