Temple University's Fox School of Business ranks among the Top 20 business schools "making the most of social media channels," according to an article in BizEd magazine.
The Fox School's ranking – No. 17 nationally – appears with an article highlighting a survey of 371 AACSB-accredited business schools' social media usage. Fox ranks fifth among Northeast business schools, behind Harvard (No. 1), Penn (No. 2), Columbia (No. 5) and Dartmouth (No. 16).
A March 2012 survey, on which the ranking is based, benchmarked each school's social media performance by metrics including Facebook fans and activity, Twitter followers, YouTube views, and official presence on Wikipedia, Google Places, LinkedIn and Google+.
The researchers found that business schools with Facebook and Twitter accounts – and that have links to those social media channels from their school website – have an average of 1,744 Twitter followers and 1,654 Facebook fans. The Fox School of Business has more than 2,500 Twitter followers and nearly 8,600 Facebook fans.
The Fox School has significantly enhanced its social media presence during the past three years through contests and giveaways for students and alumni, photo galleries, links to school news and faculty research, live tweeting from events and more.
Fox's Facebook and Twitter accounts are also prominently displayed on the school homepage, highlighted in e-newsletters, featured in the alumni magazine Fox Focus and even streamed to the elliptical stock ticker in the Fox School's Alter Hall.
"The Fox School of Business is home to dedicated and talented students, premier faculty and staff, and an incredible array of programs and events. Add to that our extensive alumni network of more than 59,000 graduates," Dean M. Moshe Porat said. "It's no surprise our social media channels are as dynamic and vibrant as our school community."
The survey results appear in the November/December 2012 edition of BizEd, published by the business-school accrediting body AACSB International. The article, "Social Media: How Tweet It Is," is authored by Sterling Morris, a 2012 graduate of the MS in Management Information Systems (MIS) program at Utah State University's Jon M. Huntsman School of Business. A related infographic is available at http://bizedmagazine.com/features/how-tweet/
While social media is not reserved to any generation or age, there is no denying that millennials are heavily influencing how organizations operate in the world of digital communication. My fellow millennials have a great deal to learn as far as strategy and execution goes, but their social nature is driving a distinct change in organizations both young and old.
As seen in the infographic below Millennials are responsible for a culture shift because of their emphasis on social media freedom, quality of work, and collaborative work environments. Because millennials continue to grow both in quantity and quality within the workplace, even the most traditional companies are being forced to adapt and become more collaborative and social by nature.
Companies that do adopt these changes will prove to be successful and leaders within their industry as they will be attracting more talent and bringing that talent to an enivornment that they can succeed in. As many will tell you, it's not enough to just have social, but to truly succeed in the digital age, you have to BE SOCIAL.
As evidenced by the statistics and information in the infographic, the instinctual social nature of Generation Y is preparing them maximize their value by bringing that nature to their employers and driving visible business results across the board.
The 2008 Democratic primary saw a first-term senator from Illinois seize the party's nomination from established-elite Hillary Clinton and become America's 44th president. Barack Obama's ascent hinged on more than ideas and charisma – his innovative new-media strategy left competitors' mass-media-reliant campaigns in the dust.
Web 2.0 is rewriting the rules of politics. Three management information systems (MIS) professors at the Fox School of Business, Drs. Sunil Wattal, David Schuff and Munir Mandviwalla, are unearthing the secrets behind cutting-edge campaigns.
"We know social media is having a game-changing effect on political campaigns, but we wanted to better understand how this impact was being realized," Schuff said. "We found social media exposure in general mattered more than traditional media. Blog mentions had the strongest effect on Gallup polls for well-known candidates, while YouTube and Myspace were more influential for lesser-known candidates. We believe that this reflects the grassroots, viral nature of those forms of social media."
In 2010, the professors co-authored an MIS Quarterly journal article titled "Web 2.0 and politics: the 2008 presidential election and an e-politics research agenda," which documented 15 Democratic and Republican primary candidates' new media clout across eight mediums, ranging from the blogosphere to YouTube, to determine if increases in online buzz meant rises in polls. Today, they're applying those insights to the 2012 Republican primary and discovering that Web 2.0's political landscape is in rapid flux.
"Candidates' use of social media is become much more sophisticated, and what was novel in 2008 is standard practice now," Schuff said. "Candidates used YouTube to release campaign ads nationwide, even where they didn't air. Everyone knows how to do this now, so the key is increased interaction with prospective voters."
New game, new rules
In 2008, not all Web 2.0 campaigns were created equal. Obama blew past front-runners in the polls by using new media to connect carefully tailored messages to highly receptive niche audiences. The result: a torrent of nearly 800,000 average monthly homepage visits and a powerful buzz in the blogosphere, which the professors' data suggest is heavily correlated with upticks in the Gallup polls.
Back-of-the-pack candidates' new media battle featured a different landscape. The researchers discovered blog buzz wasn't a game changer for underdogs – YouTube views and Myspace friends were. Among Republicans, outsider Ron Paul dominated both –
attracting 46 percent of Republican candidates' total YouTube views and 36 percent of total Myspace friends – and proved new media's game-changing potential. In 2007's final quarter, Paul's web-based fundraising campaign outpaced even that of front-runner John McCain.
From competitive advantage to necessity
Candidates who pioneered Web 2.0 campaigns had a powerful edge in 2008. But the professors predict this election cycle will be different. Candidates have amped up their web-based campaigns, and new social networks have made voters' online destinations even more varied and complex.
"Social media lowers the barriers to entry, but does not lower the barriers to success," Wattal said. "Campaigns may use tools such as Facebook, Twitter and YouTube innovatively to get their message across at a low cost. But running a campaign requires grassroots organizing, manpower and finances, sometimes over a protracted period of time. Moreover, social media tools are being used by all major campaigns, so they have become a basic necessity for campaigns rather than a competitive advantage."
The future of web-based campaigns is wide open. The "Web 2.0 and politics" article forecasts several alternate paths. Long-shot candidates flooding YouTube may threaten mainstreamers pouring millions into TV ads. Campaign blogs speaking straight to voters may wrest control of candidates' public image from Fox News and CNN. Blogs could create nationwide town halls, connecting voters from different backgrounds and perspectives. Or one-sided voting blocs could immerse themselves in biased online media. The only certainty is that political strategies must continue to go high tech – and insights from the field of MIS can help.
"The increasing impact and role of technology and social media in politics is only going to increase," Mandviwalla said. "In the not too distant future, the politicians who master social media and the blogosphere will emerge as the most influential. Since the 1960s we have assumed that the most telegenic individuals and the ones who have the most resources to use on traditional media such as TV are the most likely to succeed. That assumption is questionable today and even more so going forward."
By Sue Shellenbarge
Wall Street Journal Blogs
Some Juggle commenter's have asked for a post on the professional networking website LinkedIn. The site passed 100 million users in March and continues to grow by about one million members a week. Its public offering this week is drawing even more attention.
Non-users of LinkedIn may wonder, why bother? Posting a profile, keeping it updated, building/maintaining your network of connections, responding to messages take time.
Of course, LinkedIn can help you find a job and research prospective employers by contacting current and former employees. Recruiters use it heavily to find what they call "passive candidates" who are open to new opportunities but not actively looking.
But even if you aren't looking for a job, LinkedIn is a tool for displaying your work and credentials to colleagues and potential clients, gathering intelligence about trends and competitors from others in your industry or profession, and keeping in touch with alumni and other groups that matter to you. Also, if you lose your job unexpectedly, having your LinkedIn network up-and-running is a big asset.
The first step is to sign up and create a profile. The profile should be briefer than your resume, but it should include current and past employers, education, a professional-looking head shot (no party or beach candids, recruiters say), and any relevant affiliations appropriate for listing on a resume. Try to include details that will set you apart. "We are searching through tens of millions of people on LinkedIn, so include the thing that makes you different and unique," says Steven Raz, managing partner of Cornerstone Search Group, a search firm.
It is also OK to include a little personal information that would be suitable for your resume, such as being an avid runner, says J. P. Sniffen, a regional recruiting manager for the recruiting firmOrion International.
Keep your profile up-to-date, and don't make the common mistake of failing to delete outdated versions. Recruiters sometimes call these up by mistake, thinking they are current. Another common error is failing to respond to messages, which can create a negative impression, says Corey Ackerman, a senior partner at Cornerstone.
Strengthening your LinkedIn network is worthwhile. The more contacts you have, the more likely you are to get job interviews. Also, employers are likely to review your contact list to see who you know at what levels and in what industries, a measure of your networking skills, says Don Kjelleren, director of career services at Middlebury College. Many LinkedIn users maintain dozens to hundreds of contacts.
LinkedIn poses a risk that your boss will notice your profile or activities, assume you are jobhunting and hold it against you. A vigilant boss may wonder why you are connecting with a human-resource manager at a competitor, for example. Or "a significant change in activity level, such as new recommendations or changes to your profile, it could look suspicious" to your boss, says Laura Poisson, a vice president at ClearRock, an executive coaching and outplacement firm.
Mr. Sniffen says "it happens all the time:" An unemployed jobseeker calls to say he is out of work because the boss discovered via LinkedIn that he was looking around.
Recruiters offer tips on reducing the risk. Consider making a pre-emptive strike: Tell your boss that you are active on LinkedIn for networking purposes, to share ideas and information, to get help solving work-related problems, or to stay in touch with alumni or professional groups, Mr. Sniffen says. Be consistent in updating your profile and contacts, so a sudden flurry of contacts from recruiters or prospective employers won't be so conspicuous. And if you receive a LinkedIn job query, consider responding via your personal e-mail or phone. Some users post their personal e-mail addresses on their profiles, enabling prospective employers to contact them that way.
Some jobseekers have begun using Facebook as a tool. Recruiters advise against it, however, because you can't control photos or information other people might post on your Facebook page. "I have a tremendous fear of Facebook," Mr. Sniffen says. "It allows too much room for your personal life to bleed over into your professional life. I've seen candidates lose offers because they have some wild stuff on their Facebook page."
On the other hand, don't rely exclusively on LinkedIn and neglect face-to-face networking, recruiters say. Although "LinkedIn is the go-to site for professional social networking," Mr. Raz says, "nothing replaces the old-fashioned calling people up and meeting with them."
Posting recommendations with your LinkedIn profile can burnish your image. The best way to ask people for recommendations is to offer to write one for them, Mr. Sniffen says. Although nobody is going to post a negative recommendation, recruiters and employers still look at them.
Pick your contributors carefully. You can hurt your cause by posting fluffy recommendations from people who really don't know your on-the-job skills and capabilities. "Savvy employers will look at that and say, 'Who is recommending you and why?'" Mr. Sniffen says. Cornerstone's Mr. Ackerman says a good recommendation might come from a co-worker or current or former supervisor, or a customer you have helped. "I want to read a story about how you solved a problem, not just, 'I worked with Bob and Bob is a great guy.'"
More tips can be found on this LinkedIn user blog.
Media Contact: Brandon Lausch, 215-204-4115, blausch@temple.edu
Temple University's Fox School of Business and its Institute for Business and Information Technology (IBIT) announces three new Executive Education programs that solve important business problems and provide the specific skills needed to create tangible business value and opportunity. The following programs are currently registering participants for sessions starting June 2011:
Social Media: Managing Your Online Presence
-Demystify essential social media tools and techniques
-Hands-on projects with Google Analytics, WordPress, Twitter and Facebook
-Lead your organization to social media success and partnerships
Business Intelligence: Applying Data Analytics to Unlock Business Potential
-Learn best practices for the strategic use of data
-Apply predictive modeling, pattern recognition and web intelligence to gain business insight
-Hands-on projects with SAS Enterprise Miner, Google Analytics and Excel
Business is Design (offered in collaboration with the Fox School's Center for Design+Innovation)
-How do you mobilize the collective power of your organization?
-How do you become a visionary leader that inspires the best in all of your employees?
-How do you design an organization with a perpetual engine for innovation?
IBIT Executive Education programs are offered in small, highly interactive modules, of two days each, that are limited to 25 participants. Instructors integrate practice and academics to provide a state-of-the art experience. Each participant receives a certificate of completion.
The Fox School's Alter Hall, on Temple University's Main Campus in Philadelphia, provides a state-of-the-art facility for instruction, networking and amenities. The programs are offered in a new, high-tech flexible meeting space that features multi-user wireless projectors, innovative lighting, glass white boards and movable seating and furniture.
The program fee includes case materials and meals. IBIT members receive complimentary seats and discounted fees. Discounts are also available for Temple alumni and recent graduates of the Fox School's Management Information Systems (MIS) program.
For more information, visit the new IBIT Executive Education site at: http://ExecEd.ibit.temple.edu
April 20, 2011
In a world where the next big thing happens every next minute, the gap is now gaping among personal technology users: There are those who must have the latest iteration immediately, and those who are happy to ride on the technology horse that has carried them thus far. For some, committing early helps advertise to others who you are and what you value. "If you are a big fan of Apple products, standing in line on the first day is an event, like people who stand in line, say, for Springsteen tickets," said Steven L. Johnson, director of social media programs at Temple University's Fox School of Business. "It shows you are a loyal fan."
April 17, 2011
Many financial institutions are connecting with their next generation of customers by speaking their language – social media – and reaching them on smartphones. Several banks are also rolling out new accounts specifically geared to Gen Y, which generally includes teenagers up to 32-year-olds. "It adds positive cache to a brand, provided that it's not crass commercialism," said Jay Sinha, an associate professor of marketing and supply chain management at Temple's Fox School of Business. "Gen Y is really turned off by that."
April 1, 2011
Facebook has 500 million members and Twitter another 200 million—numbers that are growing all the time. Business and employee use of social media has very little downside, says Steven L. Johnson, an assistant professor of management information systems at Temple's Fox School of Business. "Whether they know it or not, every Fortune 1000 company has some kind of online reputation that is being formed and re-formed every day by what people are Twittering and putting on Facebook," Johnson said. "Companies can monitor that, or they can participate in the discussion—or they can just put their heads in the sand."
Fortune) — If you need a job, or just want a better one, here's a number that will give you hope: 50,000. That's how many people the giant consulting firm Accenture plans to hire this year. Yes, actual jobs, with pay. It's looking for telecom consultants, finance experts, software specialists, and many more. You could be one of them — but will Accenture find you?
To pick these hires the old-fashioned way, the firm would rely on headhunters, employee referrals, and job boards. But the game has changed. To get the attention of John Campagnino, Accenture's head of global recruiting, you'd better be on the web.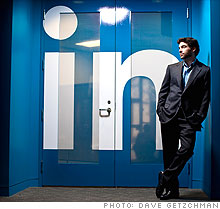 LinkedIn CEO Jeff Weiner
To put a sharper point on it: If you don't have a profile on LinkedIn, you're nowhere. Partly motivated by the cheaper, faster recruiting he can do online, Campagnino plans to make as many as 40% of his hires in the next few years through social media. Says he: "This is the future of recruiting for our company."
Facebook is for fun. Tweets have a short shelf life. If you're serious about managing your career, the only social site that really matters is LinkedIn. In today's job market an invitation to "join my professional network" has become more obligatory — and more useful — than swapping business cards and churning out résumés.
7 Secrets to Getting Your Next Job Using Social Media
Please click the link above for the top 7 steps to using social media to land a position.  This is a really interesting article that shows you how to leverage the information you can find in social networking sites to gain contacts, information, and job leads.
The 7 secrets are:
Conduct a people search instead of a job search
Use attraction-based marketing to get job offers
Be proactive on Twitter
Capitalize on LinkedIn
Advertise your brand using AdWords and Facebook Social Ads
Construct a video resume and upload it to YouTube
Subscribe to blogs that have job listings
There are a lot of resources available online, you just need to know how to use them!
Click on the image above to read an article from "One Day One Job" about how 5 job seeking students utilized Facebook advertisements to get thousands of employees from their Target company to contact them.  This is a really interesting approach to turning the tables on employers and instead of companies posting ads and students click on them, students post the ads and hopefully the employers click on them.  Interesting concept! Check it out!
Take a moment to google yourself…Go ahead…. What comes up when you search your name on the internet?  Your Myspace page?  An old paper you wrote freshmen year?  A newspaper article documenting your latest volunteer service or an article on your arrest from high school?  Now imagine an employer doing this…would they get the RIGHT impression of you? 
 This whole topic of managing your online image has become increasingly important in this connected world.  It is extremely important to realize that your "E-portfolio" can have a very strong impact on your hireability.  Hiring managers agree that having a professional online presence has become more crucial.  Getting a job may rely on your online footprint and the management of your personal brand. 
Here are some statistics:
44% of hiring managers use google, myspace, and facebook to do online background checks on candidates. 
Nearly 1/3 of these background checks lead to rejection of a candidate!!  Thats huge!!
The E-Portfolio is the newest career tool in this era of job hunting!  Take advantage of it.  The E-Portfolio will give you a competitive edge and will give you a positive online image if an employer were to search for you online.  I will be giving you all the details on how to create your very own E-Portfolio or online image!
So what exactly is an online image or E-Portfolio? 
It gives you an opportunity to communicate with a large audience and be part of a large social audience that you may not have had the opportunity to reach with traditional methods.
Some Tips on creating your own online image:
Join Linkedin.com.  This is a great site that will allow you to create a professional social networking "resume" and allows you the chance to connect to a lot of great contacts.  Your linkedin.com profile will also show up when you google your name.  Use this to your advantage and list all of your strengths, education, and experience using well written short descriptions. 
Start a blog.  Starting a blog is not just for people with uncommon niche interests.  Find a topic you find interesting and is relevent to your professional life and write in it often.  Read other blogs on industry news and comment.  All of these small things will help to create a good social presence for your on the internet. 
Check your myspace and facebook profiles.  If there is anything that would give an employer the wrong impression of you, take it down!  Pictures should be professional.  You can stand out from the pack if you use your myspace or facebook page as another tool in your job search strategy.  Not everyone has the attitude of "its just a social profile."  Make sure all privacy settings are enabled so only close friends can see things about you.
For those more web saavy people, start a website or create an online resume.  These can be great additions to your paper resume and you can certainly include a link to your online resume on your paper resume and in any footings or signatures of any emails you send to employers regarding your job search.   You can detail more experiences, share some volunteer experiences and even include pictures, showcase some examples of your work.  Be careful with this though….professionalism is of utmost importance.
Utilizing these simple steps will allow some really interesting information to pop up when a potential employer runs their background check on you.  If they google you and find your linkedin page, a really interesting comment on a professional blog related to your industry, and a sample of your marketing collateral created in a class, you one step closer to that new job!